Monday, February 6, 2017:
I spent this past Saturday in the southern part of the district as I had the pleasure of addressing the Glynn County GOP at their monthly meeting on Saturday morning and participating in a question and answer session with them. At lunch on Saturday I had the honor of speaking at the Harrington School "Bringing Out the Best in Us" celebration of everyone who supported the restoration of the Historic Harrington Graded School. As the oldest surviving structure of African-American education on St. Simons Island, the preservation of the Harrington Graded School was a top priority of the community and, with the help of friends of the school, the original building was preserved ensuring the heritage of the Gullah people will be carried on.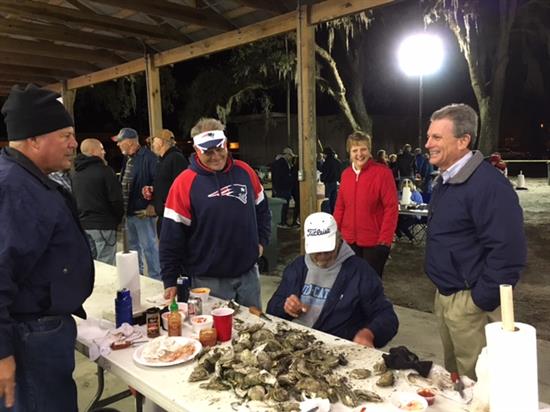 Congressman Carter at the Kingsland Lions Club Oyster Roast
Later in the afternoon, I headed down to Camden County to enjoy food and fellowship at the Kingsland Lions Club Old-time Oyster Roast. This morning I head back to Washington and once I'm back at the Capitol, we have our weekly staff briefing after which I head to the headquarters of CBS in downtown Washington to meet with television and radio executives and hear their concerns and initiatives for the new Congress. As a new member of the Energy and Commerce Committee, I will be working closely with these groups and it is important that we know each other. Once back at the Capitol, I meet with representatives from Immigration and Customs Enforcement (ICE) before heading to the House Chamber to speak on a bill I am sponsoring to expand the boundaries of Fort Frederica National Monument on St. Simons Island. Afterwards, I meet with Mylan CEO Heather Bresch to discuss pharmacy issues before heading to our weekly Whip Team meeting to preview our legislative agenda for this week. After our only vote series of the day, I attend a working dinner with Speaker Paul Ryan (R-WI) and select members to discuss where we are headed with our legislative agenda.
Tuesday, February 7, 2016:
One of the groups that I am a member of is the Doctors Caucus, a group that will have an influential voice in health care policy. At our meeting this morning we discuss our goals and initiatives for this Congress and afterwards I head over to an Energy and Commerce members only meeting to discuss our upcoming agenda.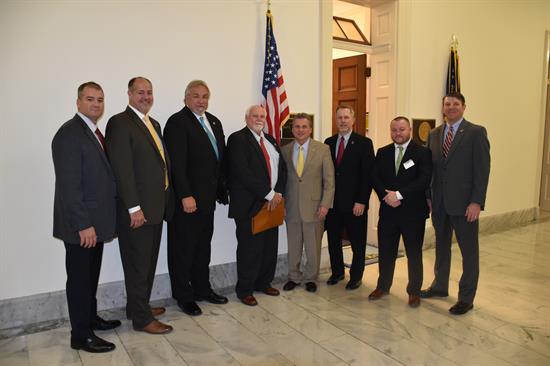 Congressman Carter with the Georgia Narcotics Officers Association
Next, I have an Energy and Commerce Health Subcommittee meeting where we pass two bills out dealing with Medicaid reform. Next, I head to the House Chamber where I deliver a one minute tribute in memory of Daniel DeLoach from Savannah, who recently passed. A link to my speech can be found
here
. After meetings with representatives from the Bureau of Prisons and Georgia Narcotics Officers Association I have a meeting with a local taxpayer advocate before heading to the House Chamber for our first vote series of the day. Later, I meet with The Advanced Medical Technology Association (AdvaMed), a trade association that represents medical technology innovators and companies, before heading back to my office to meet with representatives from the Georgia Municipal Association. Next, I head to the House Chamber for our second vote series of the day and finish my day with a meeting with officials from Southern Company.
Wednesday, February 8, 2017:
A very busy morning starts with a meeting with the other three new members of the Energy and Commerce Committee as we are introduced to more companies that have an interest in the work of the committee. Once I'm back in my office, I have a series of meetings with representatives from the Georgia Blueberry Growers, Alliance to Save Energy, National Rural Health Association, Children's Hospital Association, Children's Healthcare of Atlanta, International Academy of Compounding Pharmacists, and University of Georgia President Jere Morehead.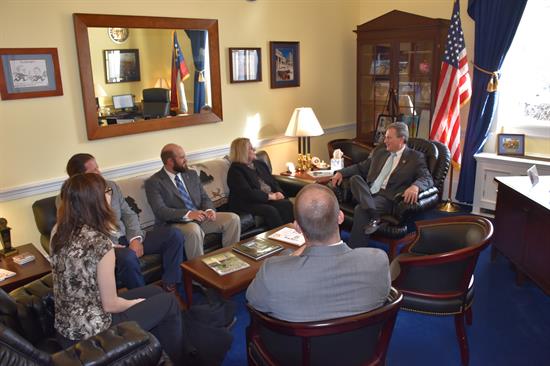 Congressman Carter meeting with the Georgia Blueberry Growers
My final meetings of the day are with the National Kidney Foundation, Forest Landowners and Aaron's, Inc., before I head to the train station to travel to New York City where I will spend the next two days at a conservative member retreat.
Thursday, February 9, 2017:
Our opening session today is, as one would expect, dealing with the subject of health care and the repeal of Obamacare. Health care is the number one issue that we have been dealing with in the new Congress and the discussion during this session is invigorating as a number of opinions and ideas are shared. The next session deals with border security and enforcement followed by a session on national security where we hear from defense experts about the negative effects that sequestration has had on our military. After lunch, we have a session on the debt ceiling followed by tax reform and entitlement reform. All of the sessions are interesting and informative and generate a great deal of debate and comments from the members in attendance.

Friday, February 10, 2017: Our only session today is with Senator Mike Lee (R-UT) who covers the topic of effective bi-cameral collaboration. I am excited to hear from Sen. Lee on this subject as the cooperation between the House and Senate has been a big concern to me since I arrived over two years ago. After an interesting discussion, I head to JFK for the flight back home.