Tuesday, February 21, 2017:
Once I arrived back in town last night around 7:30 p.m., I headed straight to the Savannah office where I met with a group of women from our district who had participated in the Women's March in Washington, D.C. last month. This highly educated and highly motivated group of ten women believe they must create a society in which all women are free and able to care for and nurture their families.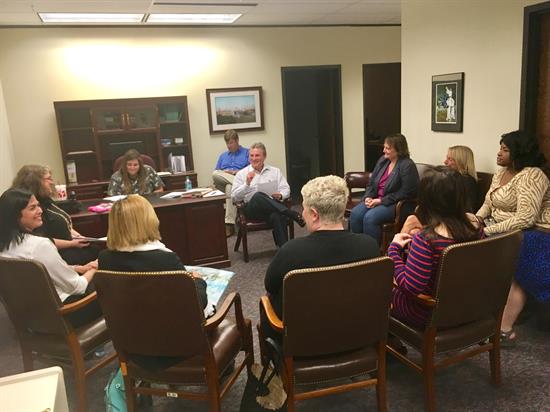 Rep. Carter Meeting with Constituents
Among the many issues that we discussed were ending violence against women, reproductive rights, civil rights and LGBTQIA issues. I found the meeting to be productive for both the group and myself. This morning I have a radio interview with Bill Edwards and Laura Anderson with WTKS in Savannah to discuss this week's upcoming town hall meetings. As I arrive at my Savannah district office this morning, my first meeting is with two constituents regarding the Affordable Care Act. They share with me their experiences with the plan and I am glad to have their input. Next, I meet with representatives from the Healthcare Leadership Council, a group of CEO's from all different areas of the health care system, to discuss value and innovation in health care delivery and how we obtain stability and sustainability in the health care system. After a meeting with representatives from the National Association of Vision Care Plans to discuss legislation that I am sponsoring, I meet with staff from the U.S. Citizenship and Immigration Services Jacksonville office who cover the southern portions of our district. My next two meetings are with representatives advocating for the Medicare Advantage program followed by a group of six constituents who want to discuss my co-sponsorship of H.R. 586, the Sanctity of Human Life Act. My next stop is at the Second Harvest Food Bank for a visit and tour of the facility as well as an opportunity for me to participate with volunteers and staff in packing boxes of food that will be distributed to low-income families, children, and seniors.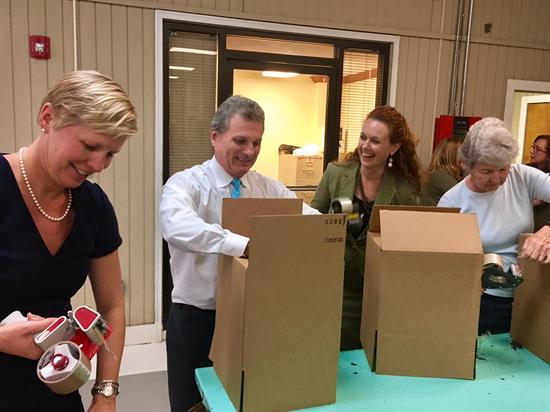 Rep. Carter at the Second Harvest Food Bank
Afterwards, I head to Armstrong Center for the first of five town hall meetings that I will be hosting throughout the district in the next three days. As many of you may have heard, this meeting was well attended and contentious at times. While I certainly understand the tension that currently exists among many citizens, I am regretful that the meeting got out of control at times. Nonetheless, we did finish and actually extended the meeting 30 minutes past our original stop time. My final event of the day is at the Skidaway Islands Republican Club's Annual President's Day Celebration where we hear from Elliott Abrams, the former American diplomat who served in foreign policy positions for U.S. Presidents Ronald Reagan and George W. Bush.
Wednesday, February 22, 2017:
Our second town hall meeting is this morning in Jesup as we welcome about 60 people to the Coastal Pines Technical College and have a great discussion without any incidents. Along with national issues such as the Affordable Care Act, Russia, and national security, there is much interest in environmental issues here, revolving primarily around coal ash. After the 1 & ½ hour meeting, I head to the Jesup Exchange Club where I am the keynote speaker today. Next, I head to Waycross where we have our third town hall meeting at their Coastal Pines Technical College facility and have another good size crowd in attendance.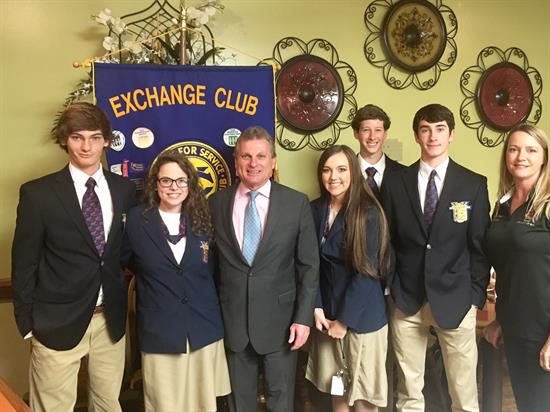 Rep. Carter at the Jesup Exchange Club Meeting
This area has a heavy agricultural presence and therefore, aside from the other current national issues, many of their questions revolve around immigration and the impact President Trump's recent executive orders pertaining to border security might have on seasonal workers. On my way back to Savannah, I stop in Darien where I meet with John Smith with Smith and Sons Seafood regarding the challenges facing the shrimping industry particularly the antidumping laws that level the playing field with Asian competitors.
Thursday, February 23, 2017:
I have another radio interview early this morning with Bill Edwards and Laura Anderson with WTKS as we discuss the town hall meetings that I have held thus far before heading to Sea Island for a meeting with a group of retired business executives to discuss national issues. Afterwards, I head to the College of Coastal Georgia for my fourth town hall meeting of the week where I am greeted by a capacity crowd that at times is quite disruptive. The issues here are much as they were in Savannah- the Affordable Care Act, Russia and immigration. Afterwards, I meet with two members of the Brunswick-Glynn Joint Water and Sewer Commission followed by a meeting with a local constituent to discuss VA issues before I am the keynote speaker at the weekly Brunswick Rotary Club meeting.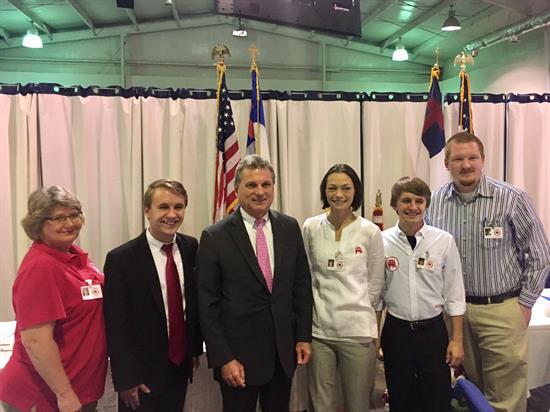 Rep. Carter at the Brantley County GOP Elected Officials Meeting
My fifth and final of five town hall meetings in the past three days is next in Camden County and, once again, we have a great turnout. Aside from the current national issues, citizens in this meeting have a strong interest in military affairs as Kings Bay Naval Base is a big part of their economy. Afterwards, I head to Folkston in Charlton County where I tour the D. James Ray Federal Prison before heading to Waynesville where I am the keynote speaker at the Brantley County GOP elected officials meeting.
Friday, February 24, 2017:
After an early morning bible study with the Band of Brothers in Garden City, I head to my Savannah office where I have the honor of presenting the Congressional Award Medal to Sophia Emmoth of Savannah for her completion of work in voluntary service, personal development, physical fitness and expedition/exploration. After a quick television interview with WSAV in Savannah, I meet with a new constituent from Richmond Hill who has recently moved to the area before meeting with Dr. Anastase Gasana, the former Rwandan Ambassador to the United Nations, who is now an American citizen and works at Fort Stewart.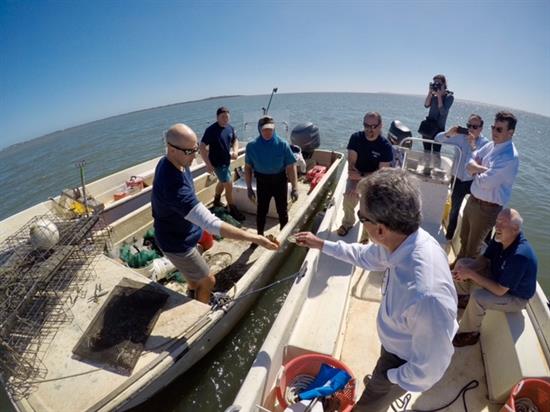 Rep. Carter at the Skidaway Island Marine Institute
I end an extremely busy week with a visit to the Skidaway Island Marine Institute for a tour and visit to the University of Georgia Oyster Hatchery where they are doing great work in bringing back the oyster harvesting business to our state.