Please Continue your Prayers
As my friend Congressman Steve Scalise and the others injured in the barbaric attack on the Congressional baseball practice earlier this week continue to recover, I ask you to keep them in your thoughts and prayers.

I want to thank the Capitol Police who heroically risked their lives to save many that day. I can't even imagine what could have happened without them that day. I am grateful for the service and bravery of the Capitol Police every day.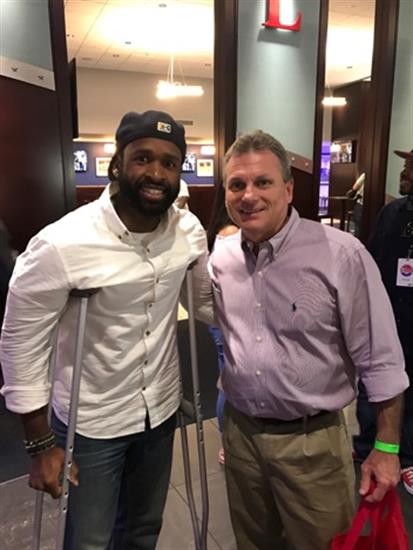 Rep. Carter with Special Agent David Bailey


I had the honor of meeting one these heroes at the Congressional Baseball Game for Charity this week. Special Agent David Bailey is a hero and I am so glad to see he is recovering well.

Again, please continue to keep all impacted by this tragedy in your thoughts and prayers.
Happy Father's Day to all the great dads out there! Being a father and grandfather is the greatest joy.



This week, the House passed legislation with my support to allow for the removal of Department of Veterans Affairs (VA) employees for poor performance or misconduct.

America's veterans put everything on the line to protect our freedom and they deserve the best possible care when returning home. However, the VA is not providing the care our veterans deserve.

A serious contributing factor to this problem is the inability to hold VA employees accountable for their actions. While there are many hardworking employees at the VA, bad actors should be removed if they are not delivering for our veterans.

It is unacceptable to allow this culture to continue at the VA, and this legislation takes important steps to ensure the dedicated employees at the VA are able to do their important work while getting those with other intentions out of the way.

Specifically, the Department of Veterans Affairs Accountability and Whistleblower Protections Act:

Creates a new streamlined process to remove, demote, or suspend any VA employee for poor performance or misconduct while protecting due process rights;
Expands protections for whistleblowers;
Provides the Secretary with the authority to reduce an employee's federal pension if they are convicted of a felony that influenced their job at the VA and recoup a bonus provided to an employee who engaged in misconduct prior to receiving the bonus.
From our nation's Capitol CXVIII
Monday, June 12, 2017: This past weekend, I stayed in the Washington area until Sunday morning in order to meet with the International Academy of Compounding Pharmacists followed by a meeting with compounding pharmacists who specialize in veterinarian products. Afterwards, I headed home and, although I was home for less than 24 hours, at least I got home. Once back in Washington today, we have our weekly staff briefing after which I walk over to the plaza in front of the Capitol to take pictures with our three interns, two of which will be leaving at the end of this week. Next, I head to a member's only messaging session that leadership has arranged for us, before heading to our weekly Whip Team meeting and then to the House Chamber for votes. Afterwards, I head over to the Department of Interior with other members of the Whip Team for a meeting with our former colleague and now Secretary of the Interior, Ryan Zinke. Secretary Zinke, a former Navy Seal and football player at the University of Oregon, and I both came into Congress in 2014 and we were both tapped to be members of the Whip Team during our freshman terms.

Tuesday, June 13, 2017: At our weekly Republican Conference meeting this morning, we discuss the agenda for the upcoming week including the VA Accountability and Whistleblower Protection Act, a bill that will streamline the process to remove, demote or suspend (for longer than 14 days) any VA employee for poor performance or misconduct, while protecting employees' due process rights. It will also expand protections for whistleblowers and provide the Secretary the ability to fire people. Afterwards, I head back to my office where I meet with representatives from the International Academy of Compounding to discuss legislation that I am co-sponsoring followed by a meeting with the National Community Pharmacists Association to discuss pending legislation making oral contraceptives available without a prescription.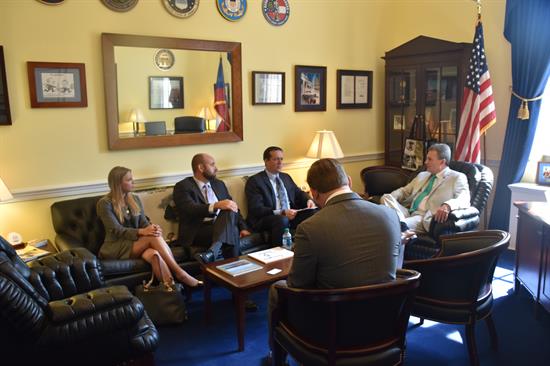 Rep. Carter meeting with the International Academy of Compounding

After a meeting with the National Association of Specialty Pharmacies, I head to the House Chamber for our first vote series of the day after which I stay to deliver a one minute speech celebrating the retirement of Ms. Ophelia Gaines from Concerted Services. A link to my speech can be found here. Once back in my office, I meet with the National Renders Association followed by meetings with the American Foundation for Suicide Prevention and the Academy of General Dentistry. Next, I do an interview with Franchise Action Broadcasting before returning to the House Chamber for our second vote series of the day. My final meeting of the day is with the new Commissioner of the FDA, Dr. Scott Gottlieb. Being a member of the Energy and Commerce Health Subcommittee as well as the only pharmacist currently serving in Congress, I will be working closely with the Commissioner and, thankfully, the meeting goes exceptionally well.

Wednesday, June 14, 2017: As I suspect most of you are aware, while in Washington I sleep in my office. I have actually found this to be a great experience as over 85 members of Congress, both Republican and Democrats, routinely also do this. We have a member's gym in the Capitol that we pay dues to join and it is equipped with showers, lockers and gym equipment. So every morning I am working out with other members and, as you can imagine, we build up quite a bit of comradery. The gym is for members only and no one else is allowed to enter. Members of leadership who stay in their office and work out with us in the mornings include Speaker Paul Ryan and Majority Leader Kevin McCarthy. Because they are in leadership they have security details who travel with them at all times but even they are not allowed to enter the gym so they stay just outside the doors when Paul or Kevin are inside. This morning I witnessed something I have never seen before as around 7:15 a.m. two security personnel came into the gym looking for Speaker Ryan who was working out near me. They pulled him aside and told him something and I could tell by the look on his face that something was not right. I continued with my workout and later after I finished my shower, one of my friends asked me if I had heard that our Majority Whip, Rep. Steve Scalise, had been shot. By this time, a group in the gym had gathered around a TV glued to the newscast reporting on what had happened. I noticed that Rep. Ron DeSantis hurriedly walked by and out of the gym. As we came to find out, a gunman had opened fire on the Republican Congressional baseball team as they practiced in Alexandria, VA, this morning a little after 7:00. Rep. DeSantis and Rep. Jeff Duncan had left practice a little early this morning and as they were leaving the field a man, later to be identified as the gunman, had asked if these were Congressmen practicing for the game. When Rep. DeSantis responded yes, the man asked if it was Republicans or Democrats and he responded that it was Republicans. A few minutes after they left, the gunman opened fire and, before he was shot and killed, wounded five people including Majority Whip Rep. Steve Scalise who was rushed to the hospital in critical condition. As you can imagine, the entire Capitol was in shock. Our morning order, scheduled for 10:00 a.m. was cancelled as were committee meetings and votes for the day. A members' only meeting was called at 11:30 a.m. and was presided over by Speaker Ryan and Minority Leader Pelosi for Capitol police to bring us up to date on what had transpired. At noon we headed to the House Chamber and went into session and prayed for those who have been injured. After a series of interviews with district media, my afternoon returns to as normal as can possibly be with everything that has happened today as I meet with the American Forest and Paper Association, Homebuilders Association of Georgia, Monarch Tax and U.S. Global Leadership Coalition.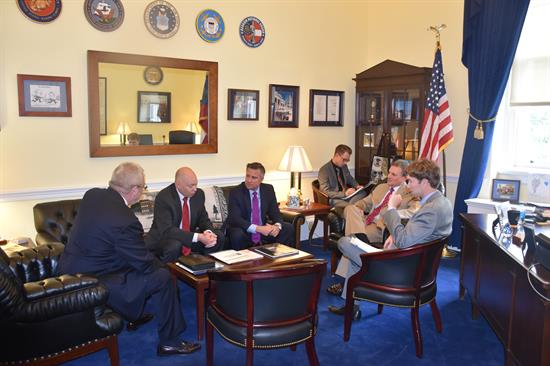 Rep. Carter meeting with the American Forest and Paper Association


Thursday, June 15, 2017: After a radio interview this morning with Bill Edwards and Laura Anderson with WTKS in Savannah, I meet with representatives from Chatham Area Transit (CAT) in Savannah who are visiting the Capitol this week. After a called Republican Conference where we are brought up to date on the condition of our friend, Steve Scalise, I head back to my office where I meet with FTC Chairman Maureen Ohlhausen before heading to an Energy and Commerce Environment Subcommittee markup. After our first and only vote series of the day, I head across town to speak at the National Marine Sanctuary Foundation Conference then return to my office to meet with SourceAmerica. Later, along with my entire staff and a record 25,000 fans, I attend the annual Congressional Baseball Game which raises over $1 million for charities in the Washington area. As always, the game is competitive with both teams playing hard, but with "Scalise Strong" signs on both sides of the field, it's obvious that our thoughts and prayers are with our colleague and those other victims who were injured yesterday.