This week, the United States Senate approved the nomination of Neil Gorsuch to the Supreme Court. I applaud the efforts of my colleagues in the Senate to confirm Judge Gorsuch. When America lost Justice Antonin Scalia, our nation's top court lost a fair judge and an ardent defender of the Constitution. Throughout Judge Gorsuch's career and confirmation process, he has proven that he shares these convictions and will carry on these standards in the Supreme Court.

I trust Judge Gorsuch will make thoughtful and Constitutional decisions on issues that will have an impact on all Americans and I am glad he will complete the Supreme Court again.

The United States initiated a strike against the Shayrat Airfield in Syria this week. The site was associated with the Syrian regime's chemical weapons program and linked to the horrific chemical weapons attack that killed innocent civilians, including children, and wounded many more.

I strongly support these tactical strikes as passiveness in Syria has only worked to exacerbate the situation there. President Trump and the United States of America have now made clear that our resolve will not be tested and the Assad regime's slaughter of innocent people will no longer be tolerated.

While military action should never be taken lightly, the barbaric regime must be held accountable and be made aware that we are watching and will react accordingly.
Last week, I told you about a Congressional Review Act I supported to roll back the Federal Communications Commission's (FCC) flawed Internet Service Provider rules. This week, FCC Chairman Ajit Pai and acting chairman of the Federal Trade Commission (FTC) Maureen Ohlhausen penned an op-ed in The Washington Post to discuss the Congressional Review Act that I would like to share:

No, Republicans didn't just strip away your Internet privacy rights
The Washington Post
By Ajit Pai and Maureen Ohlhausen

Ajit Pai is chairman of the Federal Communications Commission. Maureen Ohlhausen is acting chairman of the Federal Trade Commission.

April Fools' Day came early last week, as professional lobbyists lit a wildfire of misinformation about Congress's action — signed into law Monday by President Trump — to nullify the Federal Communications Commission's broadband privacy rules. So as the nation's chief communications regulator and the nation's chief privacy enforcer, we want to let the American people know what's really going on and how we will ensure that consumers' online privacy is protected.

Let's set the record straight: First, despite hyperventilating headlines, Internet service providers have never planned to sell your individual browsing history to third parties. That's simply not how online advertising works. And doing so would violate ISPs' privacy promises. Second, Congress's decision last week didn't remove existing privacy protections; it simply cleared the way for us to work together to reinstate a rational and effective system for protecting consumer privacy.

Both of us warned two years ago that the FCC's party-line vote to strip the Federal Trade Commission of its jurisdiction over Internet broadband providers was a mistake that would weaken Americans' online privacy. Up until that decision, the FTC was an effective cop on the privacy beat, using a consistent framework for protecting privacy and data security throughout the entire Internet ecosystem. Indeed, under that framework, the FTC carried out more than 150 enforcement actions, including actions against some of the nation's largest Internet companies.

But in 2015, the FCC decided to treat the Internet like a public utility, taking away the FTC's ability to police the privacy practices of broadband providers. This shifted responsibility from the agency with the most expertise handling online privacy (the FTC) to an agency with no real experience in the field (the FCC). As we feared, this 2015 decision has not turned out well for the American people.

During the Obama administration, the FTC concluded that "any privacy framework should be technology neutral" because "ISPs are just one type of large platform provider" and "operating systems and browsers may be in a position to track all, or virtually all, of a consumer's online activity to create highly detailed profiles." But the FCC didn't follow this guidance. Instead, it adopted rules that would have created a fractured privacy framework under which ISPs would have been subject to one standard and content providers would have been subject to another. The Obama FTC, in a unanimous bipartisan comment, criticized this approach as "not optimal." In Washington-speak, that's a major rebuke.

The FCC's regulations weren't about protecting consumers' privacy. They were about government picking winners and losers in the marketplace. If two online companies have access to the same data about your Internet usage, why should the federal government give one company greater leeway to use it than the other?

Some argue that Internet service providers should be treated differently because they have access to more of your personal information than companies such as Google and Facebook. But that's not true. As Peter Swire, President Bill Clinton's chief counselor for privacy and President Barack Obama's special assistant for economic policy, explained in a paper he co-wrote for Georgia Tech's Institute for Information Security and Privacy, "ISPs have neither comprehensive nor unique access to information about users' online activity. Rather, the most commercially valuable information about online users . . . is coming from other contexts," such as social-media interactions and search terms.

Others argue that ISPs should be treated differently because consumers face a unique lack of choice and competition in the broadband marketplace. But that claim doesn't hold up to scrutiny either. For example, according to one industry analysis, Google dominates desktop search with an estimated 81 percent market share (and 96 percent of the mobile search market), whereas Verizon, the largest mobile broadband provider, holds only an estimated 35 percent of its market.

As a result, it shouldn't come as a surprise that Congress decided to disapprove the FCC's unbalanced rules. Indeed, the FTC's criticism of the FCC's rules last year noted specifically that they "would not generally apply to other services that collect and use significant amounts of consumer data."

Put simply, the Chicken Little-like reaction doesn't make any sense, particularly when compared with the virtual silence when the FCC stripped away existing privacy protections in 2015. But we understand that more needs to be done to protect online privacy. The American people deserve a comprehensive framework that will protect their privacy throughout the Internet. And that's why we'll be working together to restore the FTC's authority to police ISPs' privacy practices. We need to put the nation's most experienced and expert privacy cop back on the beat, and we need to end the uncertainty and confusion that was created in 2015 when the FCC intruded in this space.

In short, the Obama administration fractured our nation's online privacy law, and it is our job to fix it. We pledge to the American people that we will do just that.
From our nation's capitol CVIII
Monday, April 3, 2017: Spring is in the air in Washington and it's the time of year when we have a lot of visitors. When I get back to the Capitol today, I am greeted by folks from back home in the First District up here visiting. If you have plans to visit anytime soon please call our Washington office and we'll be glad to get you set up for a Capitol tour and help with other tours in the DC area. My first meeting today is with members of the General Aviation Manufactures, including representatives from Gulfstream Aerospace, to discuss the Federal Aviation Administration (FAA) reauthorization that will be coming out later this year. Next, we have our weekly staff meeting in which our newly appointed Deputy Chief of Staff, Mary Carpenter, presides. Following our weekly Whip Team meeting where we review the legislation being considered this week, I head to the House Chamber for our only vote series of the day. Later, I attend a National Security Intelligence Forum sponsored by House Intelligence Chairman Devin Nunes (R-CA), where we hear from Gordon Chang who shares with us his thoughts on the current situation in North Korea and China and what impact it could have on the United States.

Tuesday, April 4, 2017: I'm up early this morning as I'm at the White House at 7:30 a.m. in order to escort constituents from Clinch County, Russ and Cara Goodman and their sons J.R. and Alec, in for a tour. Once I'm back at the Capitol I head to the Doctors Caucus meeting where our guest speaker is Dr. Nora Volkow, Director of the National Institute on Drug Abuse (NIDA), who leads us in a discussion on marijuana policy. I have appeared on medical panels with Dr. Volkow at various drug abuse forums and have found her expertise in this area to be unsurpassed. Next, I head to a Republican Conference meeting where leadership brings us up to date on health care and tax reform before heading to a meeting of the Energy and Commerce Environment Subcommittee where we have a hearing on brownfields. A link to my questions can be found here. Afterwards, I head to a meeting of the Energy and Commerce Oversight and Investigations Subcommittee where we have a hearing on health cybersecurity. A link to my questions can be found here.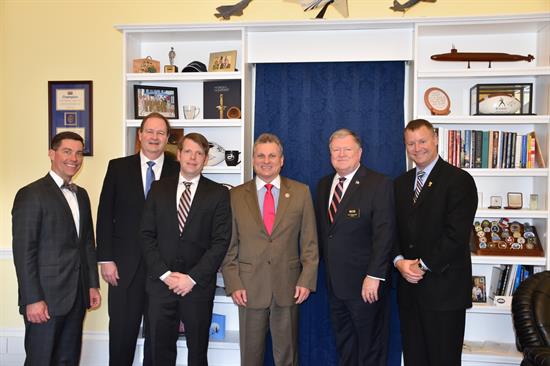 Congressman Carter meeting with the Carpet and Rug Institute

Next, I head downtown where I am the guest speaker at the Washington Industrial Roundtable luncheon, a group of business leaders in the area. Once back in my office, I meet with representatives from the Carpet and Rug Institute followed by meetings with Imperial Sugar and the Alliance of Automobile Manufacturers before heading to the House Chamber where we have our first vote series of the day. Afterwards, I meet with members of the Georgia delegation as we discuss state issues. After our second vote series of the day, I head back downtown where I speak to students from the Ohio University School of Osteopathic Medicine who are in town visiting.

Wednesday, April 5, 2017: This morning we have another guest in our "Meet the Cabinet" series where we hear from Secretary of Transportation Elaine Chao who shares with us the President's plans to infuse $1 trillion into our nation's infrastructure. During our question and answer time, I ask her if harbor deepening will be part of this initiative and am encouraged to hear her say that it will be. Once back in my office, I have a podcast interview with the Federation for American Immigration Reform (FAIR) where we discuss H.R. 1334, the ALERTED Act, which is legislation that I am sponsoring that will codify law enforcement officer's right to contact and communicate with U.S. Immigration and Customs Enforcement, and expect to receive a response. After heading to the House Chamber where I preside over the floor as Speaker Pro tem, I head to a meeting of the Republican Study Committee before heading back to the House Chamber for our first vote series of the day. Once back in my office, I have a series of meetings, including with the Geothermal Exchange Organization, American Osteopathic Association, Biotechnology Innovation Organization, CEO of Rayonier, Fort Valley State University and National Shooting Sports Foundation.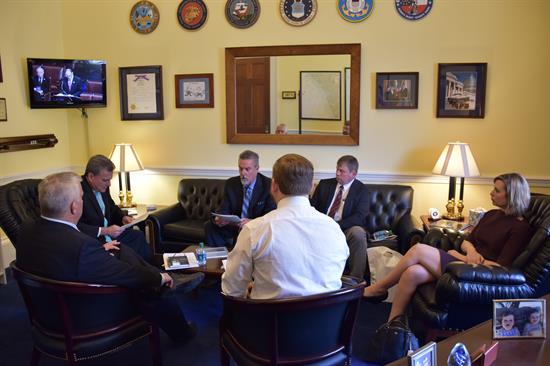 Congressman Carter meeting with the Geothermal Exchange Organization

Next I head to the House Chamber for our second vote series of the day and then back to my office and meet with the Amputee Coalition. I finish the day at the U.S. Botanical Gardens where I have the honor of escorting Georgia's 2017 Cherry Blossom Princess, Louisa Hurt, at the Cherry Blossom Congressional Reception. Louisa was an intern in our office last year and is the daughter of my good friend Bob Hurt.

Thursday, April 6, 2017: I start the morning in the House Chamber where I deliver a one minute speech explaining our recent vote to rescind the action of the FCC in regards to broadband privacy. Afterwards, I head back to my office where I meet with representatives with GlaxoSmithKlein, a leading pharmaceutical manufacturer, regarding drug pricing. This meeting is followed by a meeting with Goodwill Industries International. Our first and only vote series of the day is next and once I'm back in my office, I meet with representatives from the American Immigration Lawyers Association, Associated Equipment Distributors, and Georgia Association of Nurse Anesthetists. After a meeting with representatives from Premier, Inc, a health care performance improvement alliance of hospitals, I pack up and head to the airport for my trip home.



Congressman Carter meeting with the Associated Equipment Distributors

Once at the airport, I discover that my 4:30 p.m. flight has been delayed until 5:45 p.m., then to 6:15 p.m., then to 7:30 p.m., then to 8:00 p.m., before I am finally informed that it has been cancelled. As I head back to the Capitol to spend another night in my office, I still have no idea when I will be able to get home.