The Dodd-Frank Act is a 2,300 page rewrite of our nation's financial laws. When this sweeping law was passed in 2010, it was promised that it would lift the economy, end taxpayer-funded bailouts, make the financial system safer, and protect consumers. Instead, we got the slowest, weakest recovery in 70 years, Wall Street bailouts were enshrined into the law, and big banks got even bigger.

Under Dodd-Frank, monthly banking fees have increased 111%, free checking has been cut in half, and America is losing one community bank or credit union every day.


This week, the House passed the Financial CHOICE Act with my support. This legislation works to reverse the damages of Dodd-Frank to provide relief for the American people and our community Main Street financial institutions.

The legislation ends taxpayer-funded bailouts once and for all and repeals Dodd-Frank's authority to designate firms as "too big to fail." It holds Wall Street accountable with the toughest penalties in history for fraud and deception. The CHOICE Act also eliminates burdensome regulations that have harmed small banks.

The bill also reins in the Consumer Financial Protection Bureau (CFPB) authorized by Dodd-Frank. The bill restructures this rogue agency and provides accountability by subjecting the agency to Congressional oversight and the normal Congressional appropriations process.


Dodd-Frank has failed, and this is a better way forward.
from our Nation's Capitol CXVII
Monday, June 5, 2017: On Saturday I returned from my trip to Asia still trying to figure out the time difference as I left Tokyo, Japan, at 3:45 p.m. and arrived in Washington, D.C., at 4:15 p.m. After spending nine days in an area that is at least 12 hours different from the East Coast, my sleep patterns are certainly a mess. Today, I'm in Atlanta for a series of meetings beginning with a meeting with representatives from the Georgia Dental Association to discuss legislation to expand access to quality, affordable dental care. Next, I head to a meeting at Georgia Pacific to discuss tax reform and the impact some proposals would have on the economy and the many Georgians they employ. Afterwards, I head to a meeting with Chris Clark, CEO of the Georgia Chamber of Commerce, to discuss issues before us in Washington that will impact Georgia businesses. My last meeting of the day is with representatives from the Georgia Optometric Association to discuss health care reform.

Tuesday, June 6, 2017: Before heading back to Washington this morning, I take the opportunity to squeeze in another meeting as I visit with officials from Southern Company to get an update on the progress at Plant Vogtle and later have a telephone interview with Pharmacy Practice News magazine.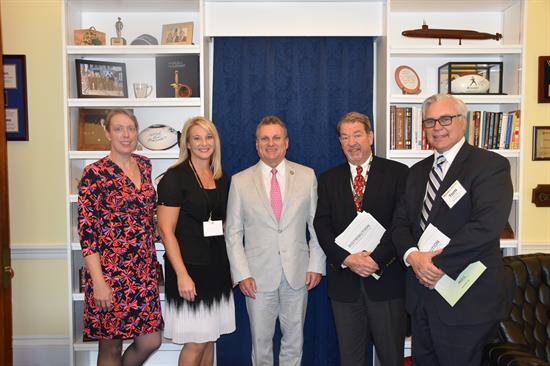 Rep. Carter meeting with the Health Industry Distributors Association

Once back in Washington, I head to my office where I have a meeting with representatives from the Health Industry Distributors Association to discuss emergency preparedness and competitive bidding. Next, I meet with members of the Georgia Health Care Association to talk about health care reform, followed by a meeting with Lutheran Services of Georgia to discuss budget concerns. My last meeting before I head to our weekly Whip Team meeting is with Friends of Fort Stewart and Hunter Army Airfield, including my good friends Savannah Mayor Eddie Deloach and Hinesville Mayor Alan Brown. Following our Whip Team meeting we have our only vote series of the day where we pass two resolutions, one condemning the violence outside the Turkish Ambassador's residence on May 16, 2017 and another condemning the terrorist attacks in Manchester, United Kingdom on May 22, 2017.

Wednesday, June 7, 2017: My day starts early as I'm across town speaking to the American Health Care Association at 8 this morning before heading back to the Capitol for our weekly Republican Conference meeting. Our main topic of discussion this morning is the Financial CHOICE Act, legislation that will repeal most of the Dodd-Frank financial law that has devastated community banks across the country. Afterwards, I head to an Energy and Commerce Committee member's only meeting before our full committee meeting where we mark-up a total of 15 bills including a bill that will reauthorize the Food and Drug Administration (FDA).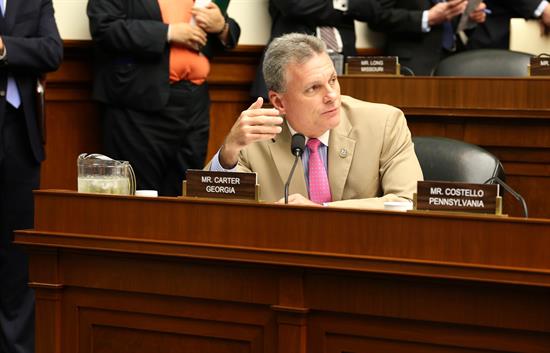 Rep. Carter discusses escalating prescription medication pricing at the Energy and Commerce full committee meeting

One of the most pressing issues we are facing in Congress is the escalating prices of prescription medications and, because of this, a number of amendments aimed at decreasing drug prices are offered during this debate. A link to a video produced by the Energy and Commerce Committee detailing our work is available here. During the four hour meeting, we break once for our first vote series of the day before returning to finish. Afterwards, I meet with representatives from Caterpillar to learn more about their in-house pharmacy benefits program that has resulted in the company stabilizing prescription drug costs over the past few years while companies utilizing Pharmacy Benefit Managers (PBM's) have seen record increases. Later, we have our second and final vote series of the day and afterwards I stay on the floor to deliver a one minute speech in memory of SPC Etienne Murphy, one of our country's heroes who was stationed at Hunter Army Airfield and was killed recently in a vehicle rollover accident while serving on a mission in Syria. A link to my speech can be found here.

Thursday, June 8, 2017: We continue our "Meet the Cabinet" series this morning as we hear from Treasury Secretary Steve Mnuchin. Afterwards, I head to the House Chamber where I deliver a number of one minute tributes, including one in memory of Rock n Roll Hall of Famer and Southern Rock icon Gregg Allman, who passed away on May 27th. A link to my tribute can be found here. Next, I head to an Energy and Commerce Oversight and Investigations Subcommittee meeting where we examine the role of the Department of Health and Human Services (HHS) regarding cybersecurity in the health care sector. This is a very important and timely issue as the recent WannaCry virus impacted health care providers world-wide.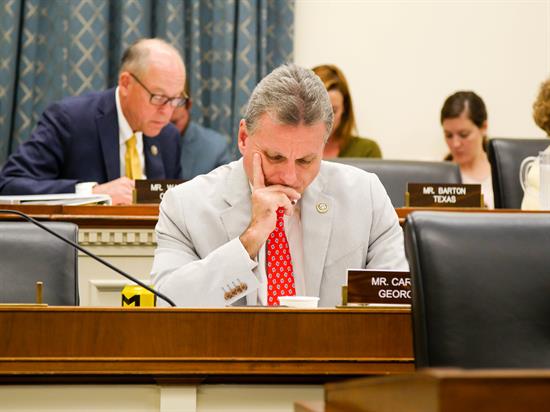 Rep. Carter at the Energy and Commerce Committee Oversight and Investigations Subcommittee hearing "Examining the Role of HHS in Health Care Cybersecurity"

Afterwards, I head to a couple of television interviews with the BBC and WJCL in Savannah regarding the testimony today of former FBI Director James Comey. Next, I head back to my office for a meeting with representatives from the American Pharmacists Association (APhA) to discuss legislation that is being proposed to allow birth control pills to be sold over the counter without a prescription. Following a phone interview with WSAV in Savannah regarding legislation I am co-sponsoring that will allow hearing aids for mild to moderate hearing loss to be sold over the counter at a more affordable cost to patients, I head to the House Chamber for our first vote series of the day. Although this is our only vote series of the day, it is an important one as we pass the Financial CHOICE Act, a bill that will repeal most of the horrible Dodd-Frank law that has resulted in the closing of many of our community banks since its passage.