Monday, January 16, 2017 - Wednesday, January 18, 2017:
The holiday weekend included a TV interview at Westlake Apartments in Chatham County to give an update on the situation at the facility. Staff and I have been working closely with HUD regarding this facility and I was happy to be able to report that things are looking much better now. I also had the opportunity to attend a basketball game at Armstrong State University where they were celebrating Military Appreciation Day.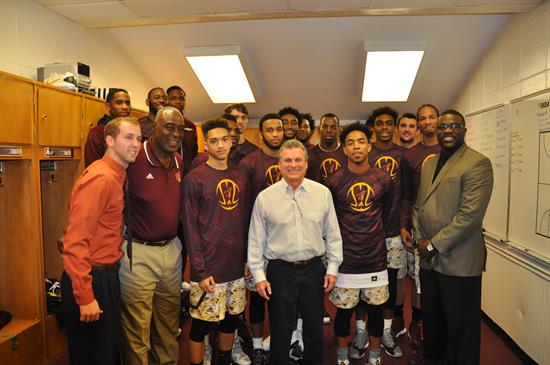 Congressman Carter at the Armstrong State University Military Appreciation Day Basketball Game
Armstrong State University is a strong supporter of our military and routinely participates in activities to support our military wherever possible. I joined over 1000 people at the 17th annual St. Simons Island Land Trust fundraiser to benefit this group that helps to preserve the island's natural and scenic character, and enhance the quality of life for the island community for present and future generations. On Tuesday, I made the 10 hour drive from Pooler to Washington, D.C., and on Wednesday I was able to join new White House Chief of Staff Reince Priebus and Vice President-Elect Mike Pence at a Victory Reception in the downtown area. This week is, of course, inauguration week and, aside from the big event on Friday, there are many other receptions and meetings that I will be attending this week.
Thursday, January 19, 2017:
I begin this morning with a radio interview with Bill Edwards and Laura Anderson with WTKS 1290 in Savannah to discuss the inauguration tomorrow. While most of the media seems to be more interested in less positive stories, I have been taken aback by the excitement up here and the electricity that is in the air. Today is a unique day for me as I spend almost the entire day in my office greeting and taking pictures with constituents as they come by to pick up their tickets to the inauguration.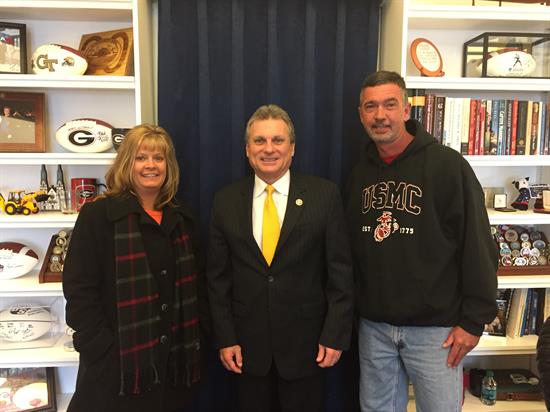 Congressman Carter with Constituents from the First District of Georgia
During the day, I have an interview with the Atlanta Journal Constitution before doing a Skype interview with WTOC in Savannah. Both of these interviews are about the inauguration as the excitement in Washington continues to rise in anticipation of the big event tomorrow. I also have a TV interview with WJCL and WSAV in Savannah regarding Cole Barfield, a student at Richmond Hill High School who has traveled here to witness the inauguration. All in all, we have given out over 200 tickets for this historic event along with commemorative hats for the occasion. Later in the afternoon, I attend a meeting of the Health Subcommittee of the Energy and Commerce Committee as we meet with a group of ten Governors and Lt. Governors who are in town to hear from them on their ideas for a replacement plan for Obamacare.
Friday, January 20, 2017:
Well, it's finally here - Inauguration Day. The American people have spoken and a new era is set to begin with a new administration. The new President must be sworn into office by noon today and the pomp and pageantry has already begun. After a non-denominational Church service this morning that is attended by the President-Elect, Vice President-Elect and their families, we are set to go. Although temperatures are higher than normal for this time of year in Washington, the chance of rain is high and everyone is hoping we can get the ceremony in before it rains. Along with other members of the House who have chosen to participate and not boycott the ceremony, I gather in the House Chamber around 9:30 a.m.. We are grouped with our class that we came in with so that the longer serving members will be seated first on the platform.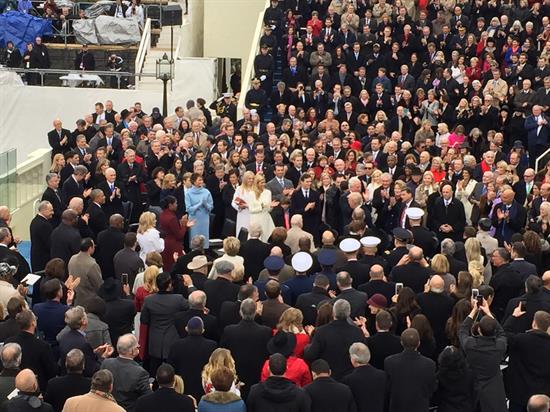 The 58th Presidential Inauguration
Since I came in with the 114th Congress, I am in the next to last group but just being on the platform where the President and Vice President will be sworn in is one of the greatest honors of my life. The Speaker Pro tem for the day, Rep. Peter King (R-NY) gavels the House in session at 10:00 and after our prayer, pledge of allegiance and other normal activities are done, we are ready to proceed to the platform for the ceremony. As we proceed in we are announced as a group and led in and seated followed by the Senate, Supreme Court Justices, Governors, former Speakers and Vice Presidents, Cabinet nominees and other distinguished guests. Last to be seated are the former Presidents and their spouses. The only living former President not in attendance is President George H. W. Bush who is hospitalized at this time. Once everyone else is seated, Vice President Joe Biden is announced and seated followed by President Barak Obama.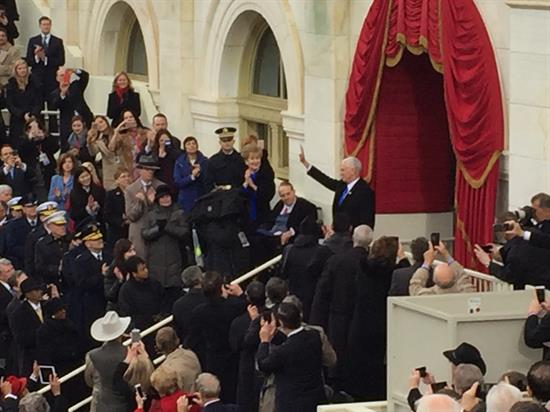 The 58th Presidential Inauguration
Finally, Vice-President-Elect Mike Pence is announced and seated followed by President-Elect Donald John Trump. Senator Roy Blount (R-MO), who is Chairman of the Joint Congressional Committee on Inaugural Ceremonies, serves as the Master of Ceremonies and after a musical prelude by the Washington National Cathedral Choir and a prelude of "The President's Own" by the U.S. Marine Band, gives the call to order. After readings and invocations, the Missouri State University Chorale performs followed by the Vice Presidential Oath of Office being administered to Michael Richard Pence by Supreme Court Justice Clarence Thomas. Next, the Mormon Tabernacle Choir performs a musical selection and the Presidential Oath of Office is administered by Chief Supreme Court Justice John Roberts to Donald John Trump who officially becomes our country's 45th President. President Trump then gives an outstanding inaugural address that stresses unity, inclusiveness and patriotism that is followed by readings and a benediction. The ceremony ends with the singing of our National Anthem by Jackie Evancho and, after we depart the stage, I return to my office before heading outside to watch the Presidential Inaugural Parade.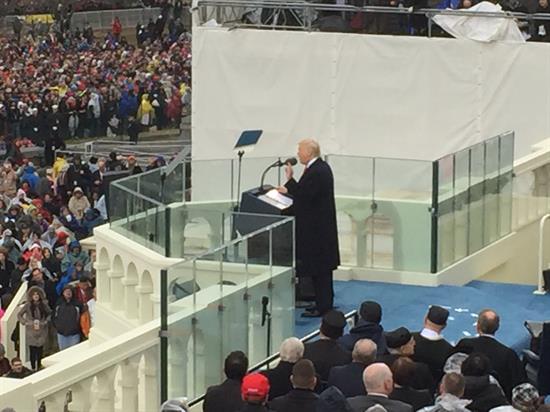 The 58th Presidential Inauguration
Although this is our country's 58th Presidential Inauguration, it is my first and the experience is one of the greatest of my life. How blessed we are to live in the greatest country in the world where the peaceful transfer of power can take place, where all our voices can be heard and where we are all proud to be Americans.