Monday, August 28, 2017: I was honored to be the guest speaker Saturday morning at the Camden County Republican Party meeting in St. Marys. This is a great group of well informed and engaged citizens who have strong views and care deeply for their country. Afterwards, I headed down to Jacksonville where I boarded a plane for Washington and later in the afternoon left Andrews Air Force Base for a flight to Nuremberg, Germany, to begin a week-long visit to Eastern Europe with four other Members of Congress. We arrived in Nuremberg on Sunday morning and headed to Granfenwoehr Training Area (GTA), the U.S. Army's largest and most sophisticated permanent training area in Europe, where we were greeted by key officers and received a 7th Army Training Command brief and GTA orientation.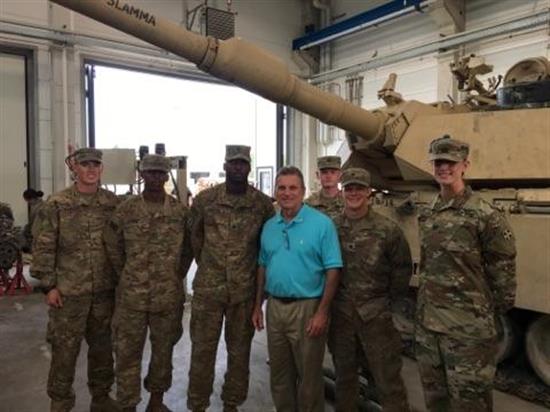 Rep. Carter at the Grafenwoehr Training Area in Grafenwoehr, Germany

This meeting set the stage for the remainder of our trip as we were briefed of the threats of Russia to Eastern Europe, particularly the Baltic States, and the importance of the NATO alliance in countering that threat. Every four years, Russia conducts a largescale military exercise called Zapad or "West." Zapad 17 is scheduled for September 2017 and reportedly will involve 100,000 Russian troops. NATO and Eastern European countries are concerned because in the past Russia has used these exercises in other areas to set the stage to invade places such as Georgia, Crimea and Ukraine. Later that afternoon, we visited 3/4 ID tactical headquarters for an overview brief and met with 4th ID leadership. Afterwards, we observed 3/4 ID troops training and vehicle static displays and met with 4th ID Soldiers. The equipment they were in charge of maintaining here was the same type of equipment used at Fort Stewart and the same type of tanks that I had the opportunity to ride in and fire earlier this month during a visit there. But the true highlight here was getting to meet the professional young men and women serving our nation and defending our freedoms. This morning we are up early and on our way to Krakow, Poland, where we arrive at John Paul II International Airport and then depart for the Auschwitz-Birkenau State Museum. Once at the museum, we are greeted by the director and given a guided tour in what is one of the most sobering experiences I have ever had in my life. Over 1.1 million people, 90 percent of them Jewish, perished in this Nazi death camp, accounting for approximately 1 in 6 Jews killed in the Holocaust. During the tour, in which I participated in a wreath laying and candle lighting, I couldn't help but notice some of the names in the displays- names that were familiar to me. Living my entire life in Savannah where we have a strong Jewish community, I have many friends who are Jewish and my sons have even more who they went to school with. As I write these words today, tears fill my eyes recalling what has to be one of the lowest points in human history. This was truly one of the most meaningful experiences of my life. Afterwards, we head back to Krakow, where we have a country team briefing with the Defense Attache's Office and Consul General's Office followed by a visit to the Jewish Community Centre of Krakow for a meeting and tour of their facility.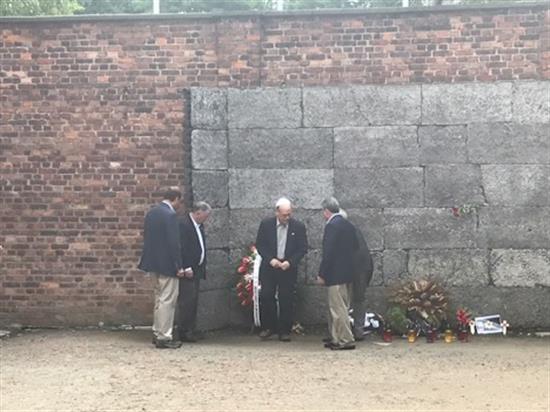 Rep. Carter and the delegation lay a wreath at the Auschwitz-Birkenau Memorial


Tuesday, August 29, 2017: This morning we fly to Vilnius, Lithuania, where we head to the U.S. Embassy and have a country team briefing led by the Charge d'Affaires, Howard Solomon. Afterwards, we attend a luncheon hosted by Lithuanian Parliamentarians including the Speaker of Parliament as well as the youngest serving member, a 26 year old female who has recently been elected. After a great conversation and many, many toasts, we walk down the narrow streets of Old Town to a meeting at the office of the Minister of Foreign Affairs, Minister Linas Linkevicius. Lithuania has a new ruling government that was elected last year but still has many of the same old concerns, primarily the Russian threat and their dependence on Russian energy. In December of 2014, Lithuania took the first steps to addressing this dependence when they opened a self-financed liquefied natural gas terminal, resulting in decreasing their dependence on Russian energy from 100% in 2013 to 25-45% (depending on seasonal fluctuation) today.

Wednesday, August 30, 2017: We begin our day with a meeting with the Lithuanian Minister of Defense Raimundas Karoblis to learn more about the defense concerns of the country. Afterwards, we head to the President's office for a meeting with Lithuanian President Dalia Grybauskaite, who in 2009 became the first female President of Lithuania and in 2014 became the first incumbent president to be re-elected. One of the most popular politicians in Lithuania, she is strong on national defense and plays an important role in foreign policy.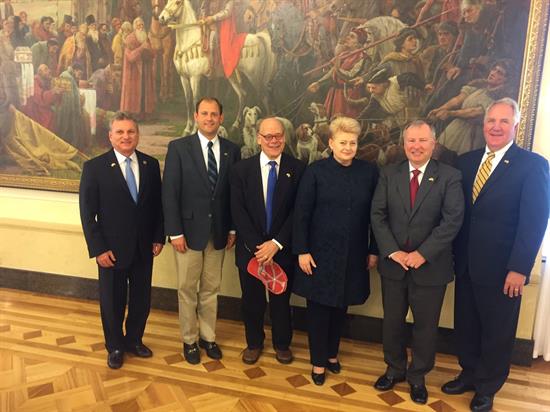 Reps. Carter, Barr, Cohen, Lamborn, and Shimkus with Lithuianian President Dalia Grybauskaitė

Next, we head to the airport for a flight to Tallinn, Estonia, and, upon arriving, head to the U.S. Embassy for a country briefing with embassy personnel. Estonia, a country of 1.3 million people with a landmass roughly half the size of Maine, is one of the best run countries in the world with little national debt and has integrated the Internet into public life perhaps more than any country in the world. Not only do Estonians have the opportunity to vote online, over 90% of all tax filings and nearly 100% of all bank transactions are done online. After the country briefing, we head to the NATO Cooperative Cyber Defence Centre of Excellence where they conduct cyber defense exercises that allow participants to learn and test the skills needed to fend off a cyberattack.

Thursday, August 31, 2017: After a meeting this morning with Minister of Defense Juri Luik to learn of the military concerns and capabilities of Estonia, we head to Amari Air Base where we have a briefing from the Acting Estonian Air Force Commander on the history of the base and current and future developments for the base.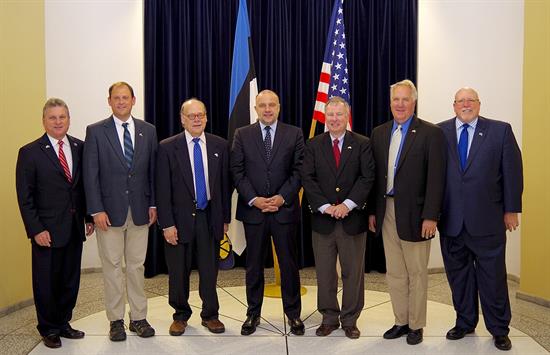 Reps. Carter, Barr, Cohen, Shimkus, and Lamborn meeting with Estonian Minister of Defense Jüri Luik

Next, we have a briefing regarding the NATO Baltic Air Policing Initiatives where we meet with the visiting Spanish group and observe their fleet of F-18's. One of the primary responsibilities of the base is to monitor and protect the airspace over the three Baltic countries of Estonia, Latvia and Lithuania. Afterwards, we travel to the Tapa Central Range where we meet with U.S., U.K. and Estonian leadership to learn more of their mission here followed by an opportunity to meet with U.S. soldiers. One of the soldiers that I meet with is Stephen Smith, a 2016 graduate of Richmond Hill High School in the First District who is in the 173 Airborne unit in Grafenwohr, Germany, and he reminds me that I spoke to his class during his senior year. Next, we head back to Tallinn and fly to Podgorica, Montenegro arriving late at night.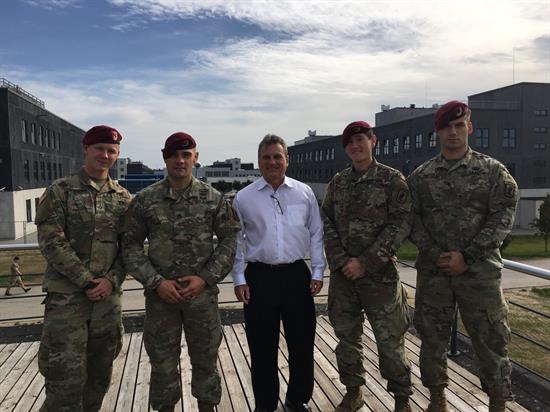 Rep. Carter with soldiers from Georgia at Amari Air Base in Estonia
Friday, September 1, 2017: Our first meeting this morning is with staff at the U.S. Embassy where we have a secure country team briefing on this tiny nation that was formerly a part of Yugoslavia and later Serbia, and on June 5, 2017 became the 29th member of NATO. Afterwards, we leave for Villa Gorica where we have a series of meetings with Montenegrin government officials, starting with Minister of Defense Predrag Boskovick, Foreign Minister Srdjan Darmanovic, and ending up with Deputy Prime Minister/Minister of Justice Zoran Pazin. Since the 2016 political elections, Montenegro has been consumed by a purported coup and assassination attempt on the eve of the elections, allegedly organized with Russian assistance, the drive for NATO membership and Russian opposition to membership. Montenegro's key foreign policy goal now is to become a member of the European Union. After an exhausting day and week we head back to our hotel for a final nights rest before our return trip back to the U.S. in the morning.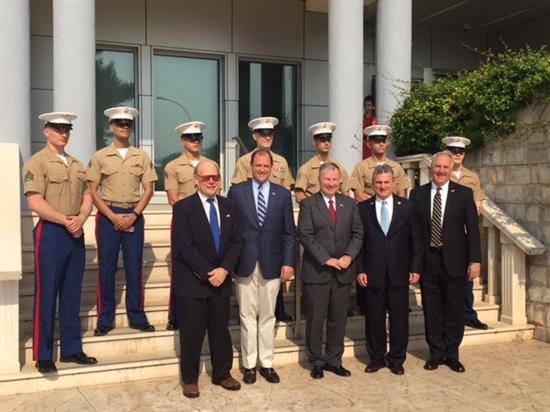 Rep. Carter and the delegation with U.S. Marines at the U.S. Embassy in Montenegro