A Black Eye for our Nation
This week, House Democrats voted to impeach President Donald J. Trump in the most partisan impeachment vote in our history. Zero Republicans voted aye and, in fact, there was bipartisan opposition to the Articles of Impeachment.

Since day one, Washington Democrats made their intentions of impeachment clear. The Democrat's entire sham impeachment process has made a mockery of the rules of the House, and is a danger to our democracy.

The Constitution does not say that the United States House of Representatives can impeach a president without direct evidence simply because the majority party does not like who the American people elected. Unfortunately, that is what we saw in the United States Congress this week.

Every American should be concerned that Speaker Pelosi does not trust our citizens to decide who should lead our great nation. The impeachment of President Donald Trump is a black eye for our nation and it will leave a stain on our history.

I discuss the impeachment vote in this episode of Buddy's Briefing.



USMCA: A win for American workers
This week I was proud to support the United States-Mexico-Canada Agreement (USMCA) negotiated by President Trump. The USMCA will update the North American Free Trade Agreement (NAFTA) and it is a win for American farmers, growers, and all workers.

This trade agreement is long overdue and it will bring our economy and trade policies into the 21st century.

It has been estimated that the agreement will create more than $68 billion in new economic activity and 176,000 new jobs here in America.

We should get the USMCA across the finish line as soon as possible.
from our nation's capitol CCXLVI
Monday, December 17, 2019: I wake up in Atlanta this morning as I flew here yesterday to meet with representatives from the American Israel Public Affairs Committee (AIPAC) yesterday afternoon. This morning my first stop is the Israeli Consulate offices in midtown Atlanta as I meet with the Consul General of Israel, Anat Sultan-Dadon, along with Deputy Consul General Alex Gandler. As a member of the Republican Israel Caucus, I have led on a number of US-Israeli issues, including leading a request for joint energy cooperation in the Appropriations process.



Rep. Carter at the Israeli Consulate in Atlanta

I have also supported President Trump in his work with the Israelis, including the relocation of the Embassy to Jerusalem. Afterwards, I have two meetings in the Buckhead area as I meet with an Atlanta area automobile dealer to discuss the success of the Tax Cuts and Jobs Act, followed by a meeting with my good friend Rick Desai, founder and executive vice president of Vanitywala.com, a leading provider of hard surface tops and cabinetry for the hospitality industry. Next, I head to Smyrna where I meet with representatives from the Forest Landowners Association, an association of landowners who are the stewards of America's private forests.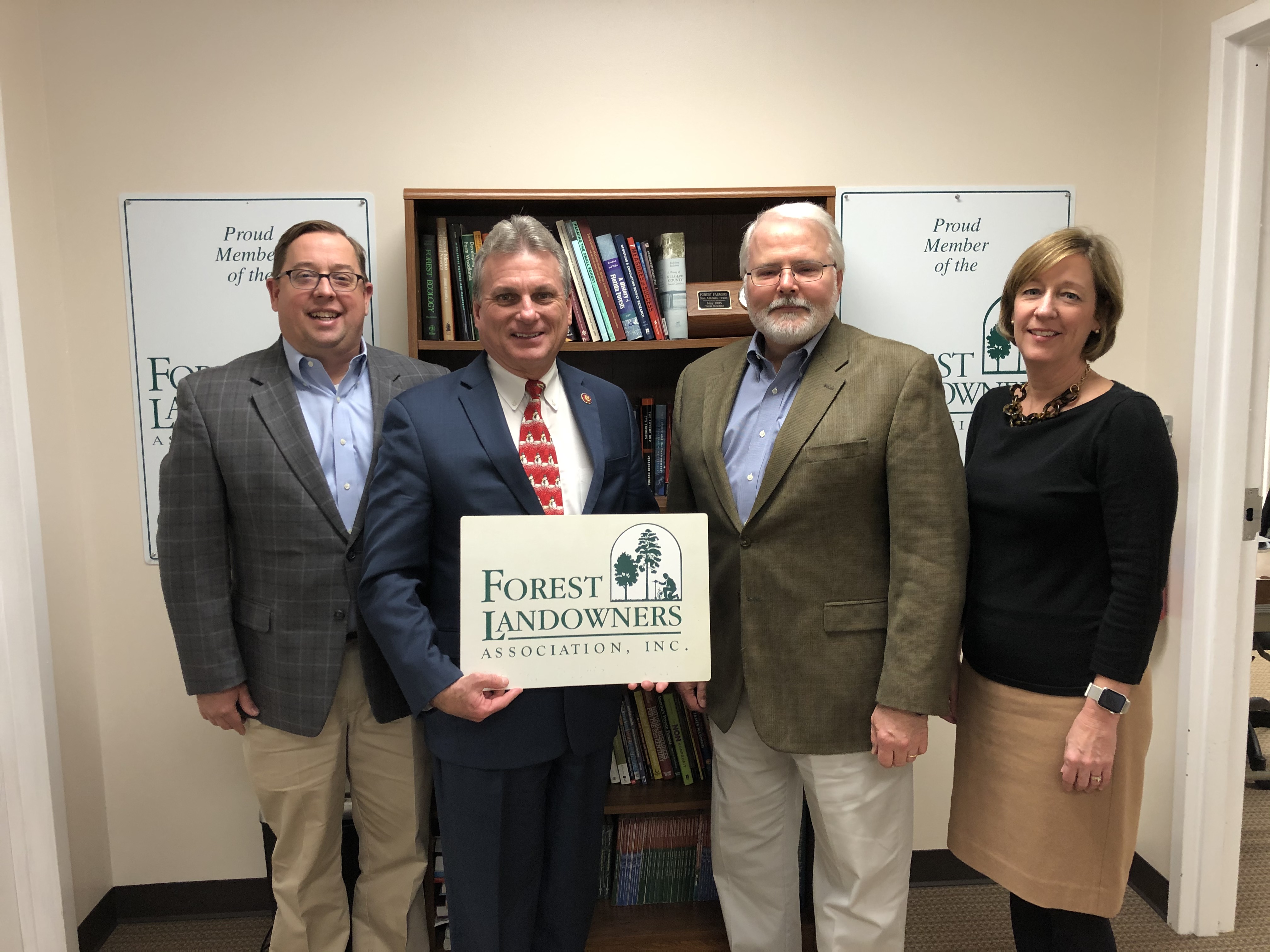 Rep. Carter meeting with the Forest Landowners Association

In Congress, I am always reminding my colleagues that Georgia is the number one forestry state in the nation and the First District has some of the most valuable forestland in the state. Afterwards, I head to the airport for my flight to DC.

Tuesday, December 17, 2019: We are very blessed to have great interns who rotate through our district and Washington offices. Each quarter I try to treat the interns in the Washington office to a meal in the Member's Dining Room and this morning I treat our intern this quarter, Mary Craig Lindgren from Atlanta, to breakfast. I enjoy pointing out other members of Congress who are in the room and sharing with them their different professions, so they get a sense of the diverse backgrounds of members. Once back in my office, I have a conference call with a pharmacist in Mississippi to discuss pending legislation I am working on. Next, I head to the House Chamber for our first vote series of the week. Afterwards, I head back to my office where we have our weekly staff briefing before I head to our weekly Whip Team meeting where we hear from U.S. Trade Representative Bob Lighthizer who brings us up to date on the United States - Mexico - Canada Agreement (USMCA). We are very fortunate to have an experienced trade negotiator and litigator like Ambassador Lighthizer who stands up for American workers, farmers, manufacturers and businesses. Afterwards, I head back to the House Chamber for our second vote series of the day and stay in the Chamber after votes to pay tribute to the Pierce County High School cheerleading team who are state champions for the fifth year in a row. A link to my tribute can be found here. Next, I have a phone interview with WSAV TV in Savannah to discuss the upcoming impeachment vote before heading back to my office where I meet with my good friends from Pooler, Marty and Cindy Daniel, owners of one of the most successful gun manufacturing companies in the U.S., Daniel Defense.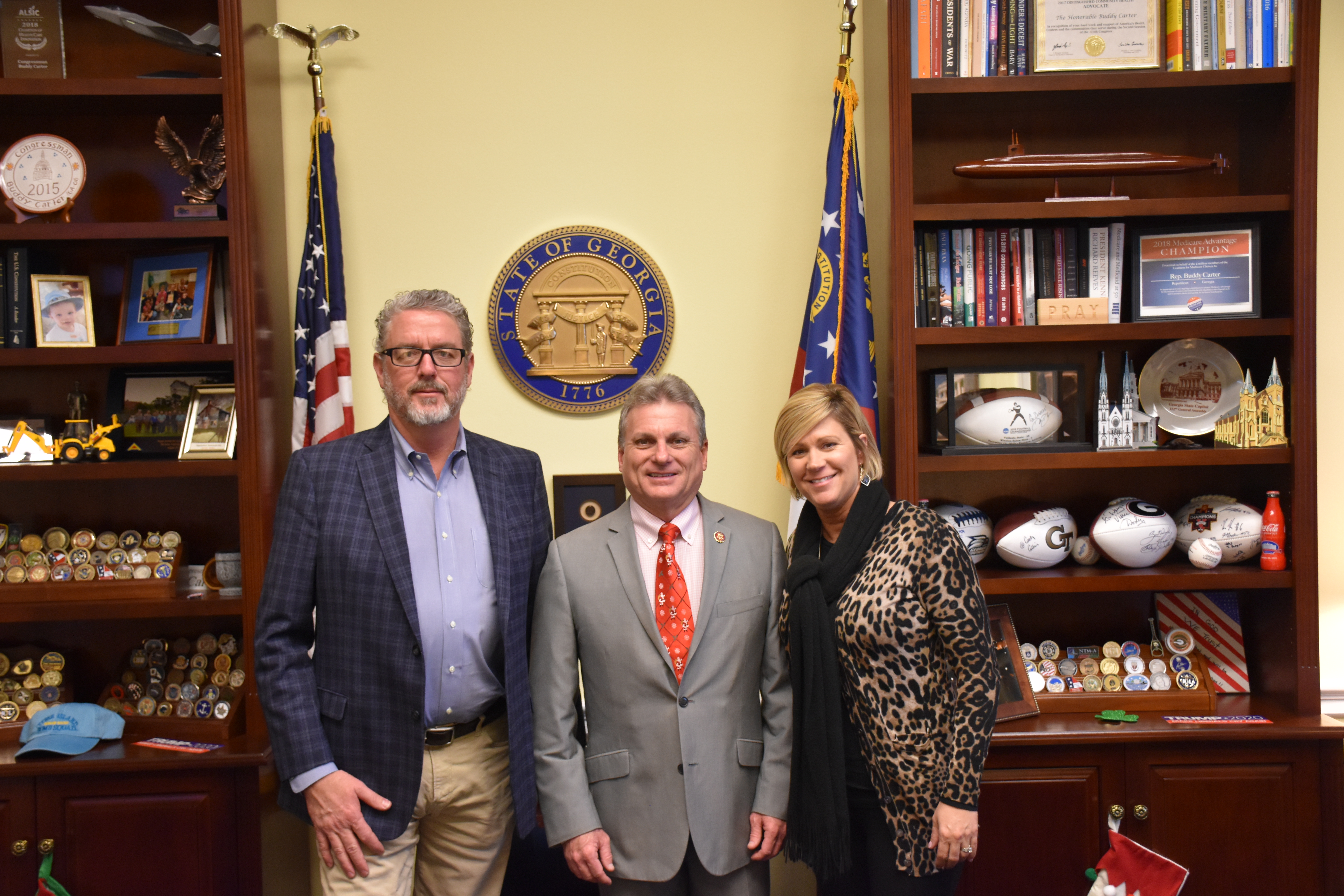 Rep. Carter with Cindy and Marty Daniel of Daniel Defense

Later, I have a phone interview with WTOC TV in Savannah to discuss the pending impeachment vote before having a phone interview with the Atlanta Journal Constitution to discuss a tweet from President Trump about me. My final meeting of the day is our weekly GOP Conference where we plan for the events of tomorrow when we will be debating and voting on articles of impeachment against President Trump.

Wednesday, December 18, 2019: Today is a historic day in our nation's history but unfortunately it is not for a good reason. For only the third time in our nation's history, Democrats will impeach our President. Only President Andrew Johnson in 1868 and President Bill Clinton in 1998- Richard Nixon resigned before he was impeached- have been impeached by the House of Representatives. The rules governing the floor are slightly different during an impeachment process and today we will have six hours of debate on the articles in the Chamber. After the House is gaveled in at 9:00 a.m. and the prayer and pledge are completed, a member is recognized from the floor and makes a motion for the House to adjourn. Any member can make a motion to adjourn and, although it happens occasionally throughout the year, it is usually used to make a point or to bring attention to a matter. In today's case it is a way to get all members to the House Chamber as an electronic vote is called for and members have to come to the Chamber to vote. Once the motion to adjourn fails, a resolution is offered by Republican Leader Kevin McCarthy (R-CA) raising a question of the privileges of the House. Before a vote can be taken on the resolution, a motion to table the resolution is offered by the Democrats and is passed. Next, we have a one-hour debate on the rule providing for the consideration of the resolution for articles of impeachment and afterwards have a vote on the rule, which passes. here. At 8:00 p.m. we are called back to the House Chamber where the articles of impeachment are passed by a Democratic partisan vote. A link to the House proceedings for the day can be found here. Although I spend most of my day in the House Chamber for this sham impeachment process, I do manage to get away at times for other business. Before we gaveled in this morning, I participated in a member ethics training class and later in the morning took part in a Florida/South Georgia delegation briefing with Ambassador Lighthizer to address concerns we have with the USMCA and fruit and vegetable farmers.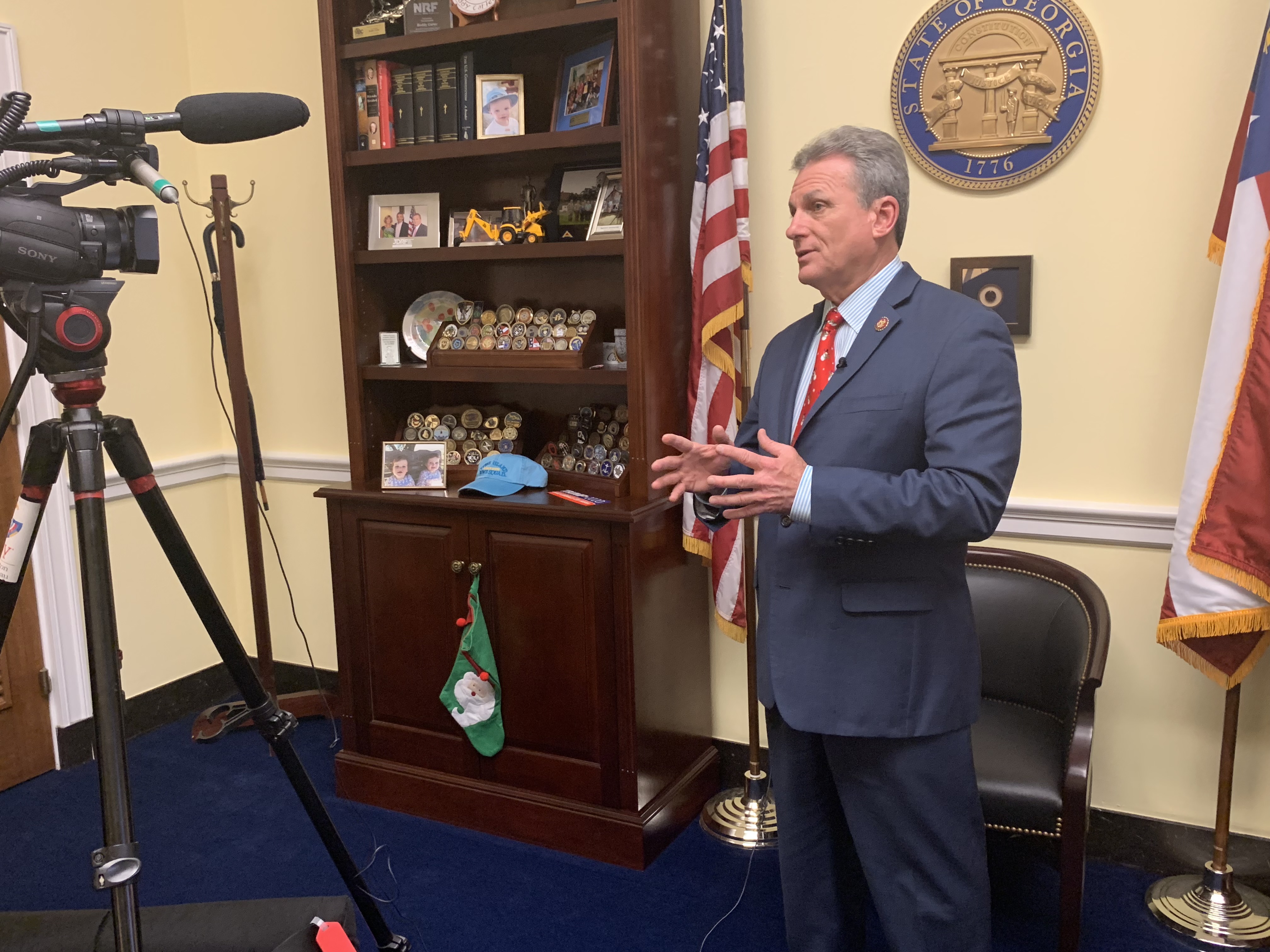 Rep. Carter speaks with reporters during the impeachment debate

I also had a phone conference with Secretary of Education Betsy DeVos to discuss the Education Freedom Scholarship and Opportunity Act that I am co-sponsoring as well as on-camera interviews with WSAV TV, WJCL TV and WTOC TV in Savannah to discuss the impeachment vote and a phone interview with the Brunswick News. As I walk out of the House Chamber at 9:00 p.m. after one of the most emotionally draining days I have ever experienced at the Capitol, I have a sense of sadness at how the impeachment process has been abused and trivialized.

Thursday, December 19, 2019: I have two radio interviews early this morning as I speak with the newly elected Mayor of Valdosta and my good friend, radio talk show host Scott James, before speaking to my good friends in Jesup, Butch Hubbard and Bob Morgan, on the world famous Butch and Bob show. Of course, both interviews are about the impeachment of President Trump by a Democratic partisan vote. I have a number of meetings with different association representatives today sandwiched before, between and after our vote series at 10:00 a.m and 3:30 p.m.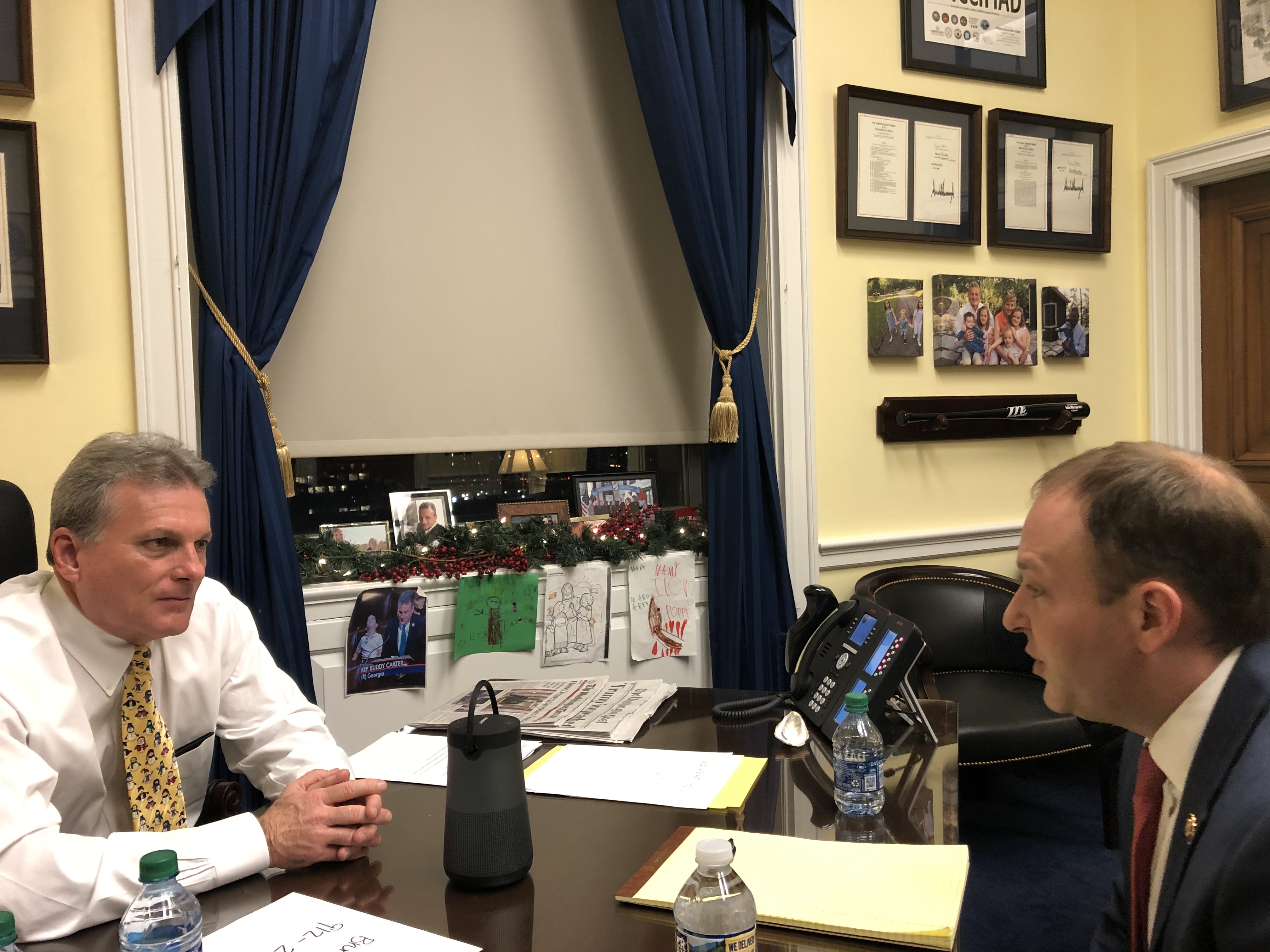 Rep. Zeldin joins Rep. Carter for a telephone town hall

After our final vote series of the day, I host a telephone town hall call with my special guest, Rep. Lee Zeldin (R-NY) who is a member of the Foreign Affairs Committee and has been intricately involved throughout the impeachment sham that the Democrats have drug our country through this year.
VOTES IN THE HOUSE THIS WEEK
Click here for this week's vote sheet in the House.