The Department of Health and Human Services (HHS) recently released a troubling new report comparing health care costs from before Obamacare went into effect to health care costs today. The report shows the "Affordable" Care Act has proven to be the exact opposite of affordable.

According to the report, which uses data from President Obama's own administration, "average exchange premiums were 105% higher in the 39 states using Healthcare.gov in 2017 than average individual market premiums in 2013. Average monthly premiums increased from $232 in 2013 to $476 in 2017, and 62% of those states had 2017 exchange premiums at least double the 2013 average."



Some states have even seen premium increases of up to 223% thanks to Obamacare!



In Georgia, the situation is also dire.

Premiums are up 106% in our state from 2013.

Georgians saw an average monthly premium of $431 this year, up from $209 in 2013. This on top of the fact that 96 counties in Georgia have only one insurer to choose from on the exchange.
Click here to read the report and more from HHS.

Patients need and deserve better. That's why House Republicans passed the American Health Care Act to deliver a free market health care system to increase choice and control while lowering premiums.
From our Nation's Capitol CXVI
Monday, May 29, 2017: On Thursday evening of last week, along with three other members of the Energy and Commerce Committee, I left for a visit to Australia, Malaysia and South Korea to learn more about the energy needs of the area as well as our defense situation in the region. After enduring the 5½ hour flight to San Francisco that evening, we left for Sydney, Australia, at 11:30 p.m. on a 15½ hour flight and arrived on Saturday morning at 7:00 a.m. This was my first experience crossing the International Date Line and, while I certainly understand the reasoning behind it, I'm still uncertain what happened to Friday. After getting settled, our first meeting on Saturday was with American Consul General Valerie Fowler as she gave us a briefing on the current political atmosphere in Australia. Our next meeting was with Bob Pritchard, Executive Director of the Energy Policy Institute of Australia and Tim O'Grady, General Manager for Public Policy and Government Engagement of Origin, an Australian energy company. Australia is rich in natural resources, including fossil fuel and uranium reserves, and was the world's largest coal exporter in 2015 and the second-largest liquefied natural gas (LNG) exporter in 2015. Energy exports accounted for 39% of Australia's total export revenues in fiscal year 2015. Currently the United States has an abundance of natural gas and on this trip we are focusing on this commodity. This is particularly important in the First Congressional District as we have a plant in Savannah located on Elba Island that is in the process of converting from an importer of LNG to an exporter of LNG.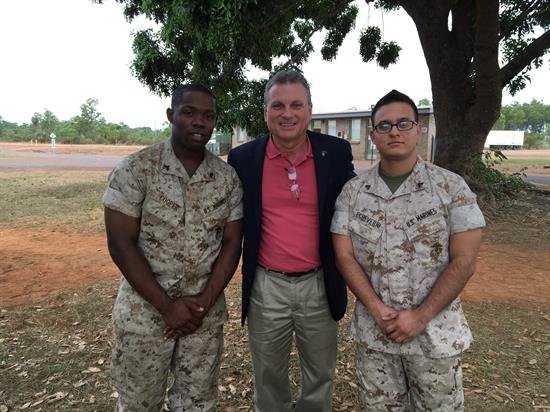 Congressman Carter at RAAF Darwin Aviation Complex Element

It is appropriate that we visit Australia to study LNG as they have the world's first floating LNG project and 7 of the world's 10 most recent LNG projects. In the near future, it is expected that Australia will rival Qatar as the largest LNG producer in the world. Yesterday, we flew from Sydney to Darwin in the Northern Territory of Australia where we visited the Australian military base and met with NORCOM commanding officer Captain Brian Parker and Lt. Col. Middleton who heads up the U.S. Marine unit on rotation here. After our briefing, we had the opportunity to meet with Marines on duty here and thank them for their service. Next, we headed to the RAAF Darwin Aviation Complex Element (ACE) to meet with the Marines serving here and view the aircraft, including helicopters and Ospreys that they utilize here. We begin today by meeting with the American Chamber of Commerce in Australia CEO Neils Marquardt before heading to the Darwin LNG plant operated by ConocoPhillips, one of the largest LNG export facilities in the world. After a briefing and tour of the plant we head back to Darwin where we have an oil and gas roundtable meeting with representatives from the Northern Territory Government. Next, we head to the Parliament House for a meeting with Hon. Kenneth Vowles, Northern Territory Minister for Primary Industry and Resources and end our day with a visit to the USS Peary Memorial.

Tuesday, May 30, 2017: After boarding a flight this morning at 4:00 a.m. in Darwin, I arrive in Kuala Lumpur, Malaysia, via Singapore, late this afternoon and immediately go to a meeting with Hon. Dato' Sri Mustapa Mohamed, the Malaysian Minister of International Trade and Industry as well as the U.S. Ambassador to Malaysia, Kamala Lakhdir. Malaysia is the world's third largest exporter of LNG and the second largest oil and natural gas producer in Southeast Asia.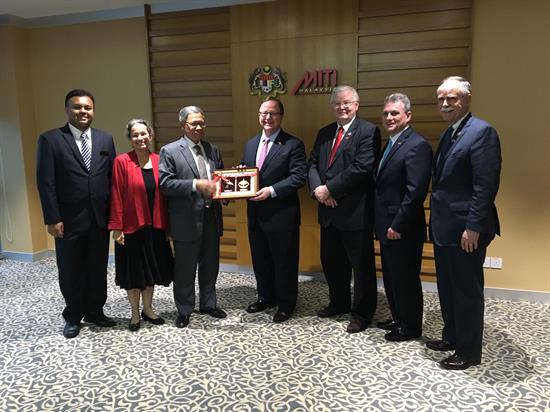 Congressman Carter meeting with the Malaysian Minister of International Trade and Industry

The energy industry accounts for 20% of the country's total gross domestic product and the country's western coast runs along the Strait of Malacca where almost 40% of the world's aquatic trade takes place. It is also the third largest consumer of energy in Southeast Asia. Later, we meet with representatives from U.S. energy companies, including ExxonMobil, Halliburton, and Murphy Oil to get their perspectives on American companies doing business in Southeast Asia.

Wednesday, May 31, 2017: We begin this morning with a meeting with U.S. Ambassador Kamala Lakhdir before heading to the headquarters of Petronas, the government-owned energy company that runs independently and pays dividends and taxes. After a great meeting, we head to the General Electric iCenter, where we have a briefing and tour their facility to learn more of the work they are doing in monitoring turbines all over the world. Next, we have a lunch with representatives from the renewable energy sector, including Dr. Wei-nee Chen of the Sustainable Energy Development Authority, Ministry of Energy. Afterwards, we head to Putrajaya, outside of the City of Kuala Lumpur, where we meet with Hon. Datuk Abdyul Rahman Dahlan, Minister in Charge, Economic Planning Unit, Prime Minister's Department. While we talk a lot about energy, most of the conversation at this meeting deals with the U.S.-Malaysia economic relationship, particularly U.S. business investment in Malaysia. Later in the evening, at 11:15 p.m. we board a red eye flight to Seoul, South Korea.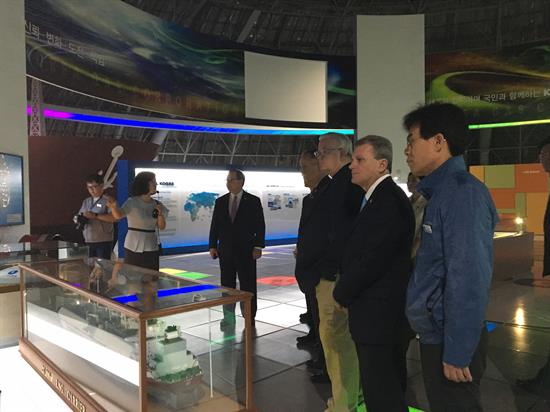 Congressman Carter at Korgas, the Korea Gas Corporation


Thursday, June 1, 2017: After sleeping very little on the flight last night, we arrive at the airport in Seoul at 7:00 a.m. and, following getting cleaned up at the hotel, have our first meeting at 10:00 a.m. at Kogas, the Korea Gas Corporation. Unlike the other countries we have visited thus far, South Korea is one of the world's leading energy importers, relying on imports to meet about 98% of its fossil fuel consumption. The Incheon LNG Terminal in Seoul provides about 40% of the natural gas demand in Korea and was the first offshore LNG production terminal in the world. After a presentation and tour of the facility, we head across town to a meeting with Bill Miner, the Chairman of Chevron Korea and director for GS Caltex. Chevron is one of the largest foreign investors in Korea and runs one of the largest and most advanced oil refineries in the world in Yeosu. Later, we head to the U.S. Embassy in Seoul where we meet with embassy officials to discuss the current political atmosphere in Korea.

Friday, June 2, 2017: Today begins with a meeting with Charge d'Affaires Marc Knapper, who is currently serving as the interim Ambassador to South Korea, after which we head to USFK Yongsan where we meet with Gen. Vincent Brooks for a classified briefing on military affairs in the region. Before the briefing, we participate in a very special ceremony where each Member of Congress signs the guestbook for the base and we have the opportunity to view the book of honor of those American servicemen from our district who were killed in the Korean War.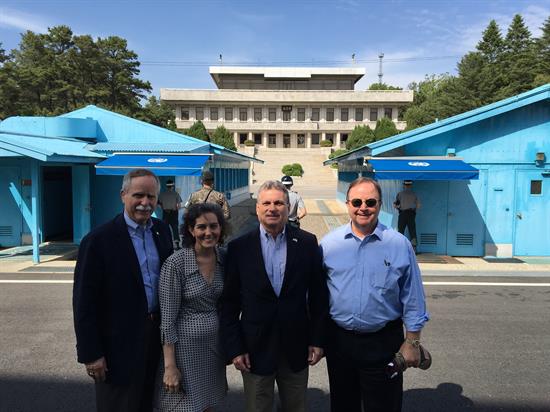 Congressman Carter at the DMZ

This is one of the most solemn moments during our trip and truly emotional. During our security briefing, we gain a first-hand sense of the threat being posed by North Korea and its leader Kim Jong Un, not only to this region but to the entire world. Afterwards, we head to the mess hall where we enjoy lunch with soldiers from our home states and have the opportunity to thank them for their service. Next, we leave USFK Yongsan and drive to the DMZ for a tour of the Joint Security Area led by Col. Steve Lee, the commanding officer of the Joint Defense Organization. After a briefing and tour of the area, I gain a new appreciation for the tension that exists between the two countries and the role that the U.S. presence plays in this region.