No Taxpayer Funding for Abortion
As a health care provider, father, grandfather and Congressman, I strongly believe that life starts at conception. I also strongly believe that American taxpayers should never be responsible to foot the bill for abortions.

While there are measures in place to protect against taxpayer dollars being used to fund abortion coverage, including the Hyde amendment, families across America who share my convictions still end up paying for abortion services, possibly without their knowledge.

The Hyde amendment was put in place to ensure taxpayer dollars aren't used to fund most abortions and abortion coverage through government programs like Medicaid. However, the Hyde amendment only applies to funds appropriated through the annual Labor, Health and Human Services Appropriations bills. Taxpayer funds made available through other bills are not covered by Hyde. So, additional funding procedures are needed to cover programs funded through other funding streams that must be reapproved every year and could be eliminated at any time.

Additionally, Obamacare allows funding for plans that include abortion. In November 2014, the Government Accountability Office reported that taxpayer dollars went to pay for over 1000 health insurance plans that included abortion.

That is why I voted to support critical legislation this week to ensure taxpayer dollars are banned from funding abortions once and for all.

H.R. 7, the No Taxpayer Funding for Abortion and Abortion Insurance Full Disclosure Act, passed the House this week with my support. H.R. 7 ensures the Hyde amendment applies uniformly across federal programs, including Obamacare, and is permanent.
From our nation's capitol XCVIII
Monday, January 23, 2017: After traveling to Washington this morning in windy, rainy weather, I have a television interview with WSB-TV in Atlanta as soon as I walk in my office. Later this afternoon we will be voting on H.R. 588, the Securing Access to Networks in Disaster Act, that will help strengthen and reinforce our networks during times of emergency, and the reporter is interested in how this will help in South Georgia during natural disasters such as the tornadoes we experienced this past weekend and Hurricane Matthew that hit the coast a few months ago. After our weekly staff meeting, I head to the House Chamber where I deliver a one minute speech honoring the life of Wiley Wasden, a former State Senator from Savannah who passed recently. A link to my tribute can be found here. Afterwards, I stay in the chamber to speak on a number of Energy and Commerce Committee bills that are being debated on the floor, including the aforementioned H. R. 588. Next, I head to the Lincoln Room in the Capitol where I meet with former MMA heavyweight champion and Hall of Famer Randy Couture and others to discuss H.R. 44, the Muhammed Ali Expansion Act, followed by a meeting with representatives from CareZone Pharmacy.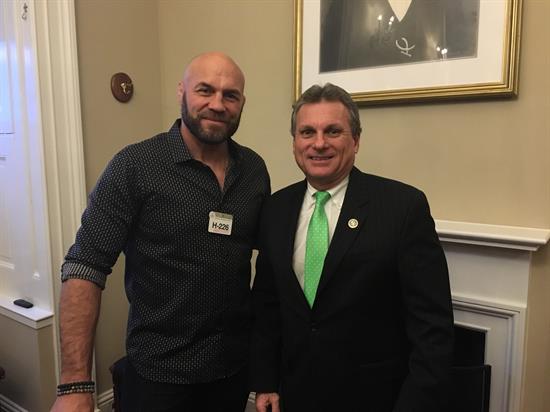 Congressman Carter with Randy Couture

After a phone interview with WSAV in Savannah to discuss Obamacare, I head to our weekly Whip Team meeting where we discuss the agenda for the upcoming week. Finally, I head back to the House Chamber for our only vote series of the day where I preside over votes as Speaker Pro-tem and where the Georgia and Mississippi delegations observe a moment of silence in honor of the victims of the tornadoes that struck the southern states this past weekend.

Tuesday, January 24, 2017: As a new member of the Energy and Commerce Committee I am meeting new groups and this morning I meet with representatives from BP oil company before meeting with members of the Nuclear Energy Institute. Afterwards, I head back to the Capitol where I have a Republican members meeting of the Energy and Commerce Committee. Next, I have a meeting with the BCT commander from Fort Stewart and key leaders from 1st ABCT, 3rd Infantry Division who are visiting the Capitol. Most of the afternoon is spent in our organizational meeting for the Energy and Commerce Committee. This is our first meeting of the year where we set the rules by which committee meetings will follow and is very important as these rules will dictate how business is conducted in the committee for the next two years. As expected, the minority party offers 41 amendments to the committee rules, some of which are adopted but most of which are not. The meeting continues for nearly six hours and we have to break twice for votes in the House Chamber. During the second vote series we pass H.R. 7, the No Taxpayer Funding for Abortion and Abortion Insurance Full Disclosure Act, an act that will assure no taxpayer money is used for abortions as well as assure that no insurance plan included in the ACA pays for abortion services.

Wednesday, January 25, 2017: I'm on a train to Philadelphia this morning along with other Republican House members and Senators for our biennial retreat. As we reach the City of Brotherly Love we are greeted by protestors and warned by security not to leave the building unescorted. Our first meeting is with Speaker Paul Ryan and Senate Majority Leader Mitch McConnell who lay out our two hundred day plan and what our priorities will be during this time. Next, we have a presentation on what working and middle income people want from their government where we hear from professional surveyors about the results of their research. Following a presentation from pollster Frank Luntz we hear from Ways and Means Chairman Kevin Brady (R-TX) and Senator John Thune (R-SD) regarding the tax proposals being discussed in the House and Senate. Our final presentation of the day is from the best-selling author Simon Sinek, who gives an inspirational talk on leadership.

Thursday, January 26, 2017: Quite honestly, I've been around many protesters before but this is the largest and most vocal group I've ever experienced, although it is to be expected as today we will hear from the President, Vice-President and Prime Minister of Great Britain. My morning starts off with a radio interview with Bill Edwards and Laura Anderson from WTKS in Savannah where we discuss health care reform and the retreat, followed by our first meeting of the day where we hear from congressional defense leaders including Senators John McCain (R-AZ) and Bob Corker (R-TN) about the state of our military at this time.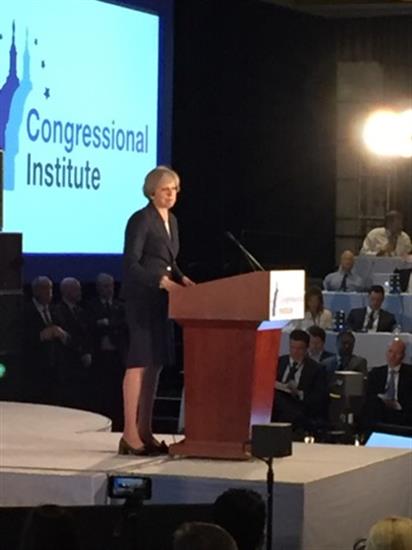 British Prime Minister Theresa May at the Republican Retreat

Our next meeting is to discuss health care reform and repair as we hear form House and Senate chairs of the committees that will be involved in the process including Chairman Greg Walden (R-OR) of the Energy and Commerce Committee of which I am a member. Afterwards, we welcome President Donald J. Trump to our retreat and he delivers an excellent outline on what his priorities are for his first 100 days in office. I feel President Trump is off to a resounding start and has put together one of the finest mixtures of business and political leaders to form his cabinet that has ever been presented. Next, we hear from Vice President Mike Pence, a former House member and Governor of Indiana and, perhaps more importantly, one of the most genuine men I have ever met, before hearing from British Prime Minister Theresa May. Great Britain and the United States have always shared a very special and supportive relationship and Prime Minister May assures all of us that will continue under her leadership.

Friday, January 27, 2017: This morning we hear from Major Scott Smiley, USA, ret., a wounded Iraqi War Veteran who shares his inspiring story of being permanently blinded by a suicide bomber and how he has dealt with his injury and continued to serve his country and become an Ironman Triathlete. His story reminds all of us how fortunate we are to have the greatest soldiers in the world serving in our military.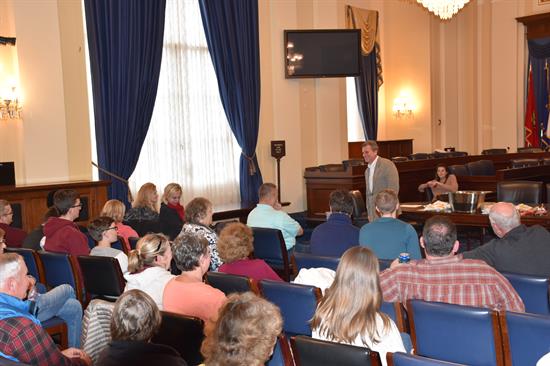 Congressman Carter with Members of the Independent Presbyterian Church in Savannah

Afterwards, I head back to Washington, although our travel plans are changed as we travel back by bus as protestors have threatened to lay on the tracks and we are not able to travel by train. Once back in Washington, I meet with constituents from the Independent Presbyterian Church in Savannah who are here for the March for Life today before I head back to the district.