Monday, December 23, 2019:
For many people, including myself, the Christmas holiday season is the most wonderful time of the year. Spending time with family and friends and celebrating the birth of our Lord and Savior Jesus Christ makes this time of year especially enjoyable.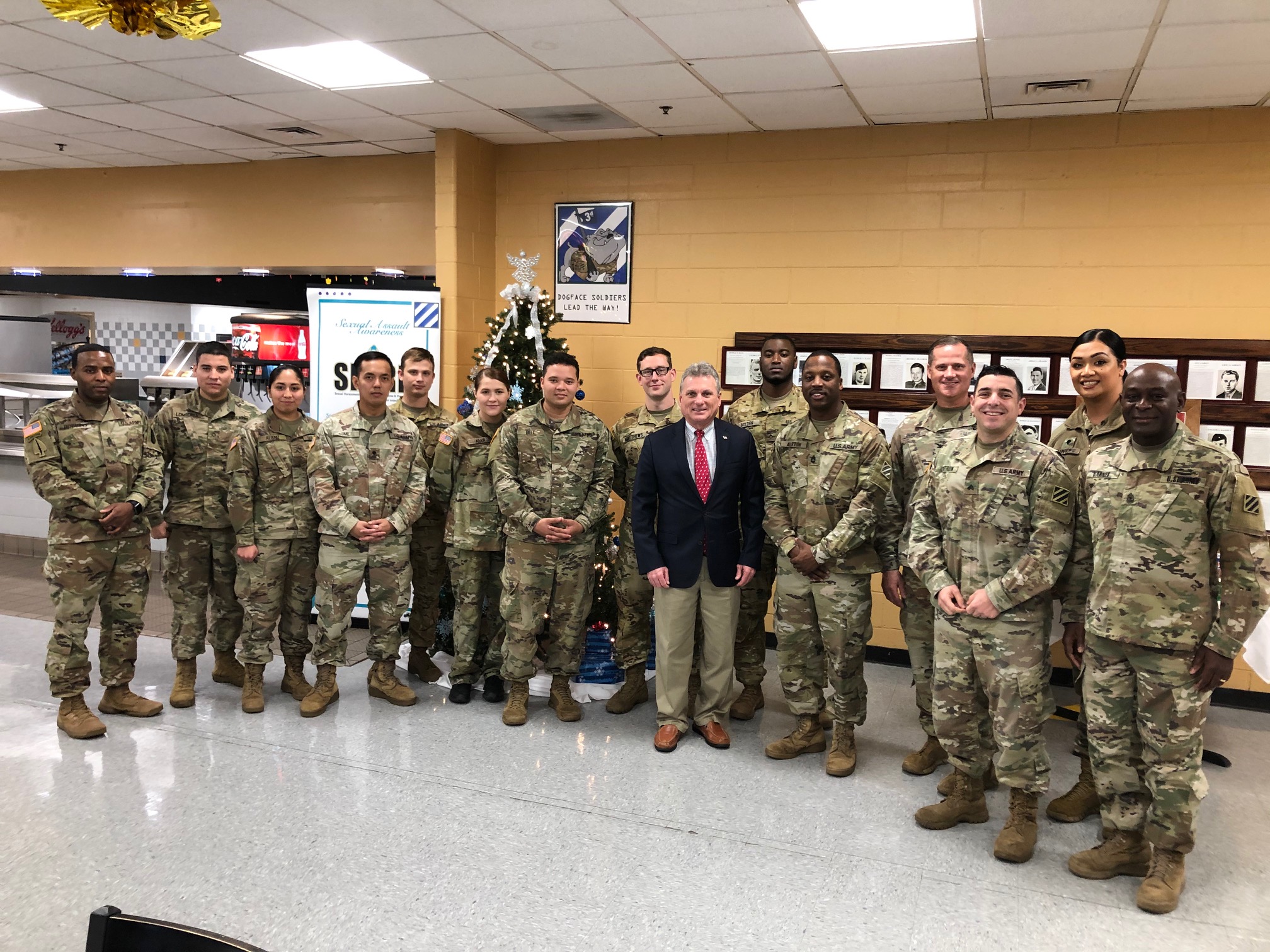 Rep. Carter has lunch with troops at Hunter Army Airfield
While I have enjoyed many special times this holiday season, perhaps none is as special as having lunch with about 25 of our troops at Hunter Army Airfield today. Although it is a very impromptu visit, I am honored to share time with these heroes who, although away from home and working during this special time, are still excited to celebrate the season. Home for these heroes is from all across our great country - Las Vegas, Raleigh, Albany, San Diego, etc. And while I'm sure they all would like to be back home with their loved ones, their dedication to their work and their service to our country is clearly not deterred.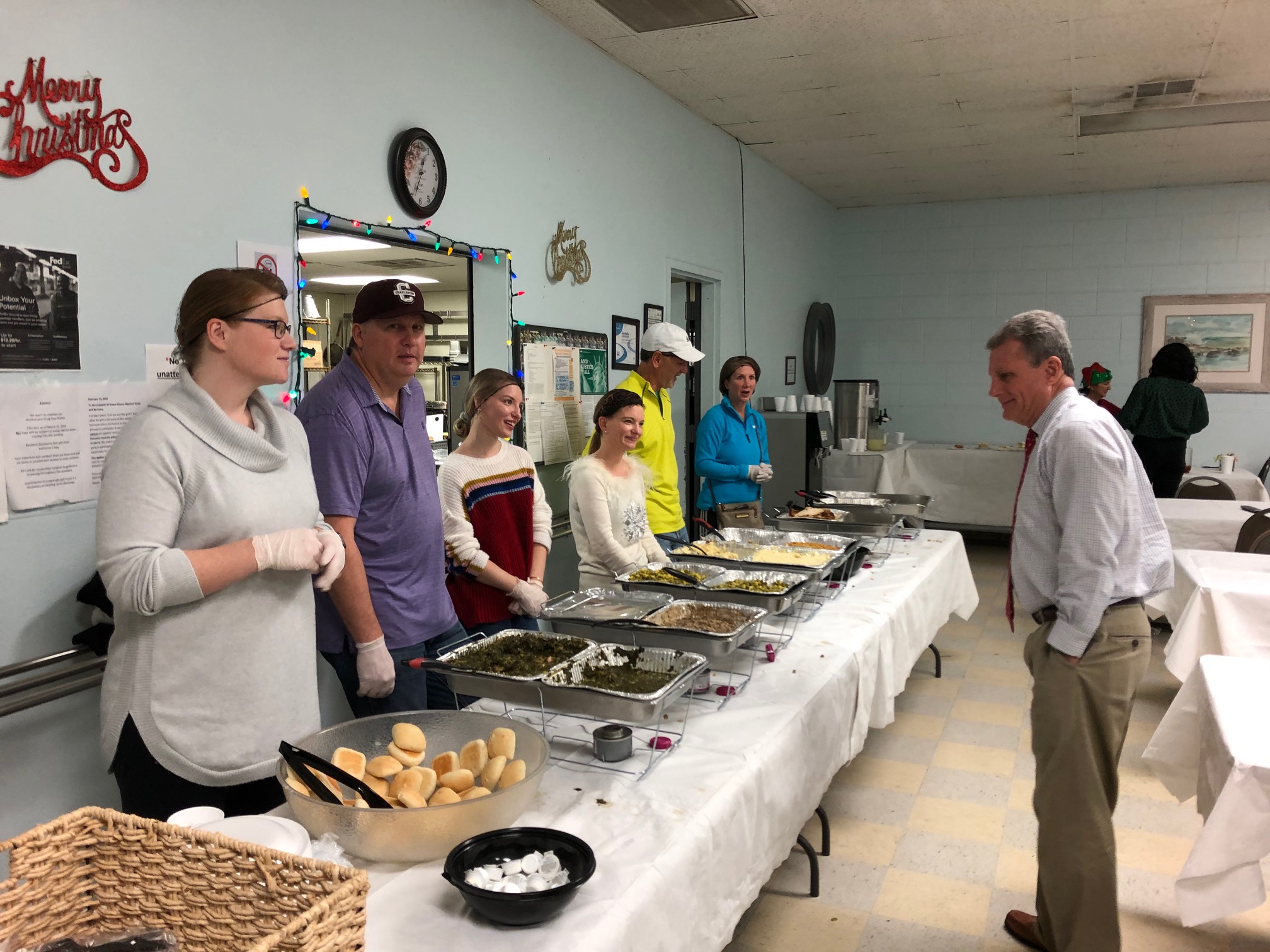 Rep. Carter at Union Mission's Grace House
I also have the opportunity to visit Union Mission's Grace House in downtown Savannah where holiday meals for over 300 people, many homeless, are being served today and where they are handing out hundreds of gifts including clothing and shoes. Today was indeed a very special day.
Tuesday, December 24, 2019:
I'm in Nahunta in Brantley County today at the Okefenokee Rural Electric Cooperative where I meet family and friends of Brantley County High School (BCHS) student Porter Mobley as we prepare to surprise him with the news that he has received an appointment to the U.S. Air Force Academy. Porter's dad works at the Cooperative and is an integral part of our scheme as he has coaxed Porter into coming to work with him today dressed in his ROTC uniform for a picture session. Also present are Brantley County School Superintendent Dr. Kim Morgan, BCHS Principal Dr. Ben Horner, AJROTC Commander Col. Rick Chapman as well as many family and friends and the local press. I have met Porter on a few occasions and, while he is surprised to see me, he still has no idea why I'm there for a picture session and, I suspect, has no idea why his teachers, family and friends are there.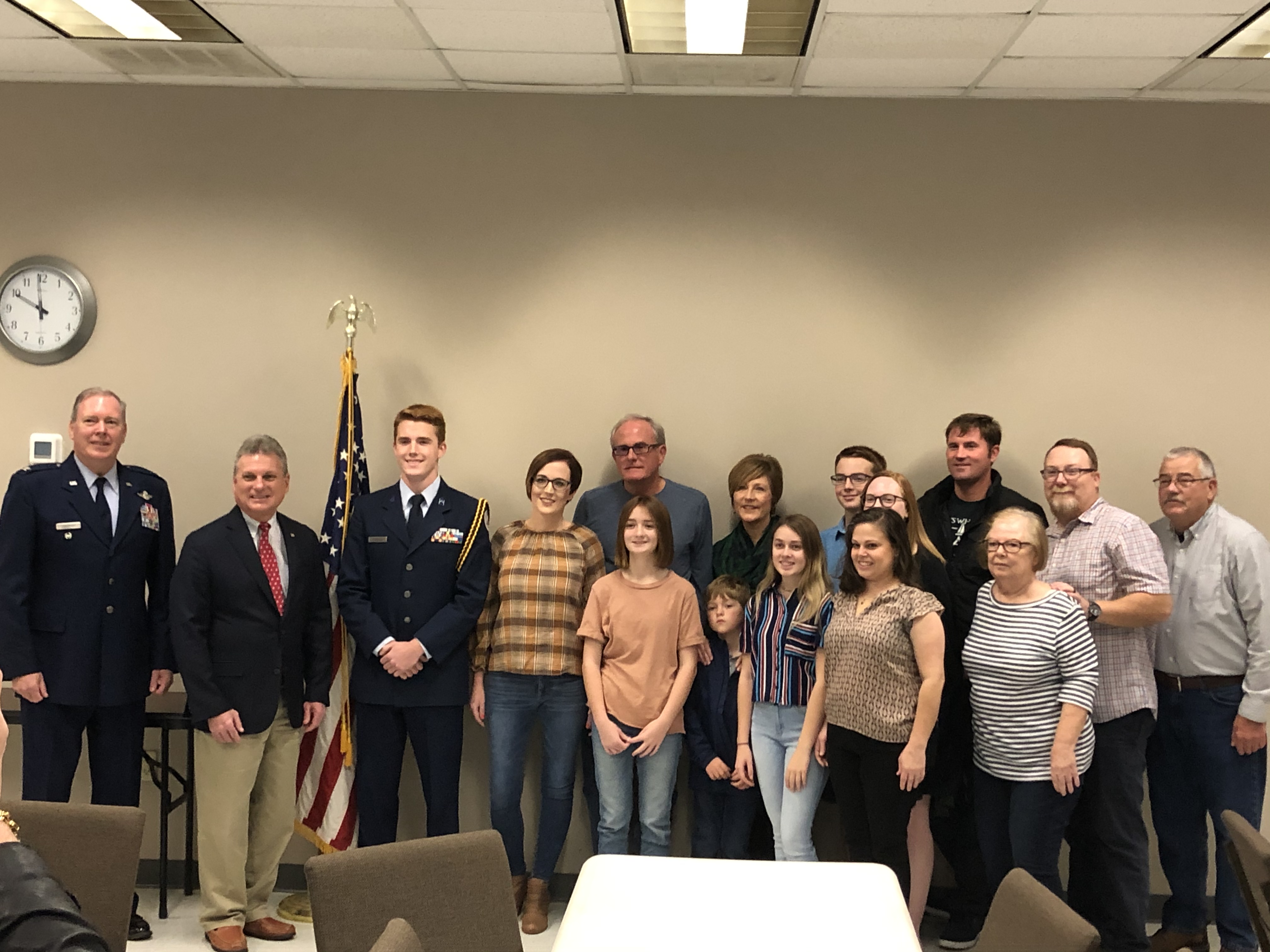 Rep. Carter announcing Porter Mobley's appointment to the U.S. Air Force Academy
As we all gather around and I announce to this fine young man the exciting news of his appointment, the pride and joy of all those gathered is obvious. While I believe Porter is the first student from Brantley County to ever receive an appointment to one of our country's service academies, I am certain that he won't be the last. Afterwards, I head to the Darien United Methodist Church in McIntosh County for their Christmas Eve luncheon at Charlie's Place.
Rep. Carter at the Christmas Eve Luncheon at Charlie's Place
Although this is a special luncheon because it is Christmas Eve, a free lunch is served every Tuesday for the community here at Charlie's Place.
Friday, December 27, 2019:
I have a very important conference call today for an update on the salvage/wreck removal operation of the Golden Ray in the Brunswick Harbor with the Unified Command that has been set up by the Coast Guard. The Unified Command includes federal (Coast Guard), state (Department of Natural Resources - DNR), local and private sector parties. During the call we discuss three major topics - 1) environmental concerns, 2) salvage/wreck removal, and 3) waterways management/commercial traffic. While all of these issues are major concerns for the community, environmental concerns are obviously at the top of the list. The report here is good as the environmental impact has been kept to a minimum. Of the estimated 380,000 gallons of ship-based fuel on board the vessel, 330,000 gallons have been accounted for. Shoreside impact has been minimal and water quality sampling and air monitoring have been good. In mid-October it was determined that the ship was not salvageable, and the project turned into a wreck removal. The owner of the ship has requested that demolition of the ship be by the large section process and the Coast Guard has approved their request. An environmental protection barrier will be placed around the vessel during this process that calls for the ship to be cut up into 8 large sections. The goal is to complete the operation by at least December of 2020 with hopes that it may be sooner. Up to this point, the waterways management of the Harbor has been very satisfactory with local authorities and there is no reason to think this will change. In essence, while much work remains, the project is progressing well.
Monday, December 30, 2019:
I'm in Liberty County today as I am honored to attend the Hinesville Mayor and City Council Inauguration Ceremony held at City Hall.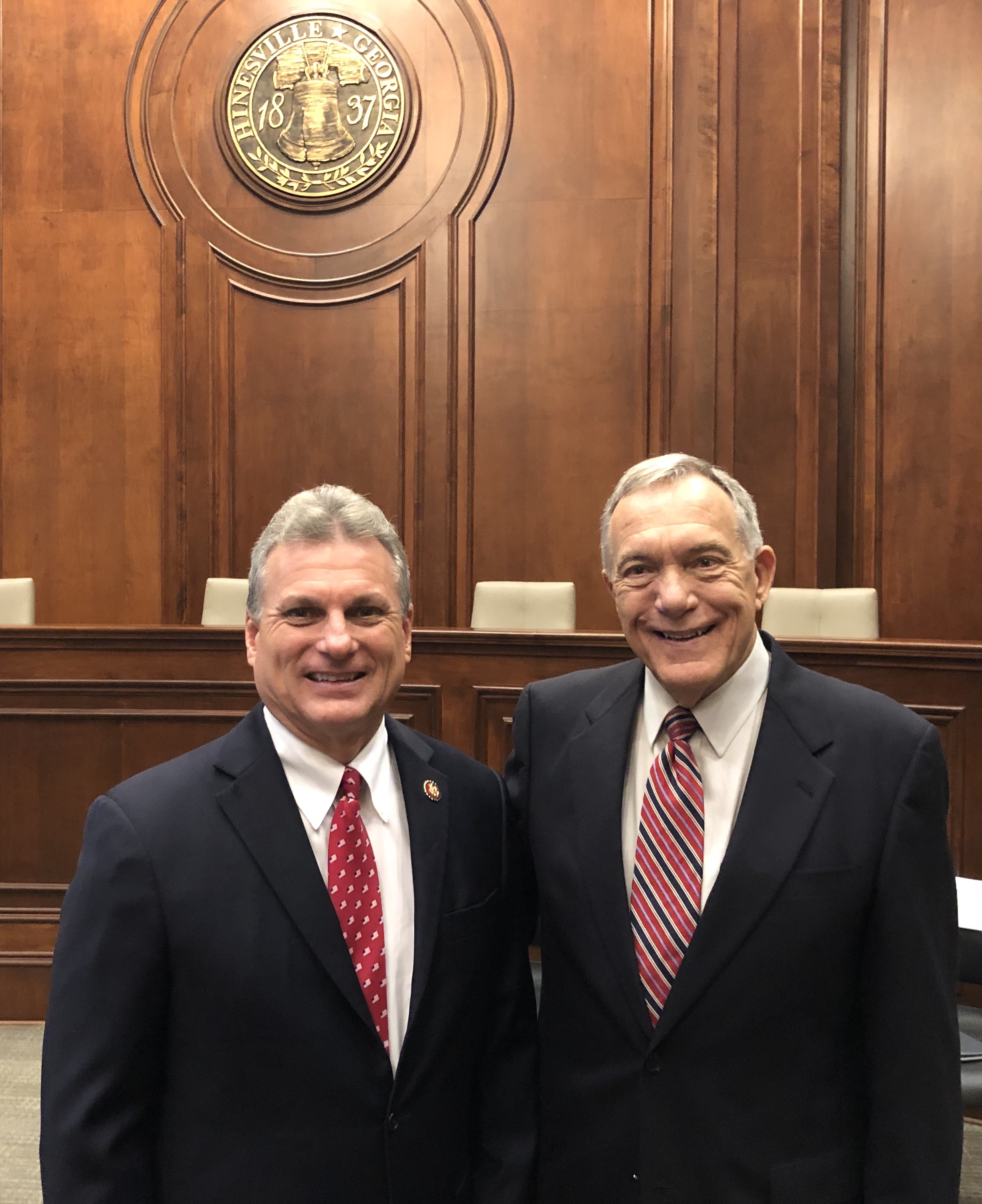 Rep. Carter and Mayor Brown at the Hinesville Inauguration Ceremony
Hinesville is one of the few municipalities in the area where all the incumbents were reelected. The oaths of office for the Council Members and Mayor was administered by Liberty County Probate Court Judge Nancy Aspinwall, who was first elected in 1976 and has held that office for the past 46 years. My good friend, Mayor Allen Brown is sworn in for an unprecedented 4th term, having served two consecutive 4 year terms in the 1990's and again now in the 2000's. Also sworn in are Mayor Pro-Tem Jason Floyd and Council Members Diana Reid, Vicky Nelson, Keith Jenkins and Karl Riles.
Thursday, January 2, 2020:
After two early morning meetings with constituents in our Savannah office, I head to downtown Savannah for a meeting with Senator-designate Kelly Loeffler who is in town today to visit local leaders and the Georgia Ports Authority (GPA). Senator-designate Loeffler has been chosen by Governor Brian Kemp to fill the unexpired term of Sen. Johnny Isakson and will be sworn in on Monday, January 6th.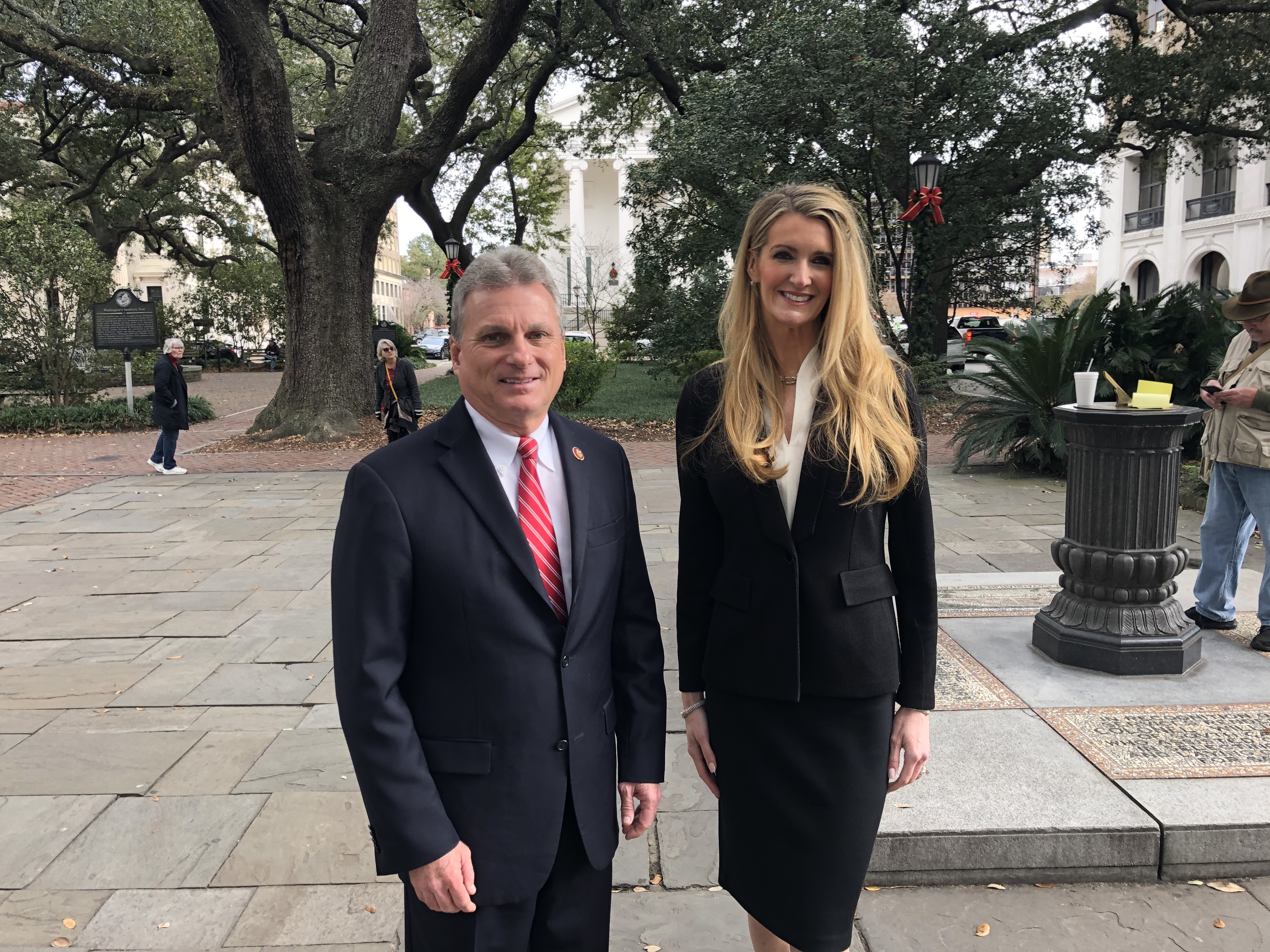 Rep. Carter with Senator-designate Loeffler
After meeting with the Senator-designate and learning more about her long held conservative principles, I am convinced her views reflect those of the citizens of Georgia and she will do an outstanding job as our next U.S. Senator. After an on-camera interview with WTOC TV in Savannah to discuss the Senator-designate's visit, I head to downtown Brunswick in Glynn County where I meet with Susan Imhoff and Donna Davis to film a couple of videos for the Small Business Revolution, an original series by Deluxe with Amanda Brinkmanship and renovation icon Ty Pennington. The City of Brunswick has made it to the finals to possibly be picked to be featured on the show that will pick 6 businesses in the city for a complete makeover. Afterwards, I head to Darien in McIntosh County where I participate in the inauguration of Mayor Bubba Hodge and City Councilman Bubba Skeen, who have both been re-elected, and City Councilman Morris Butler, who is newly elected. Darien is a close-knit, well-run city that is on the brink of some major expansion projects that could see the city grow exponentially in the near future.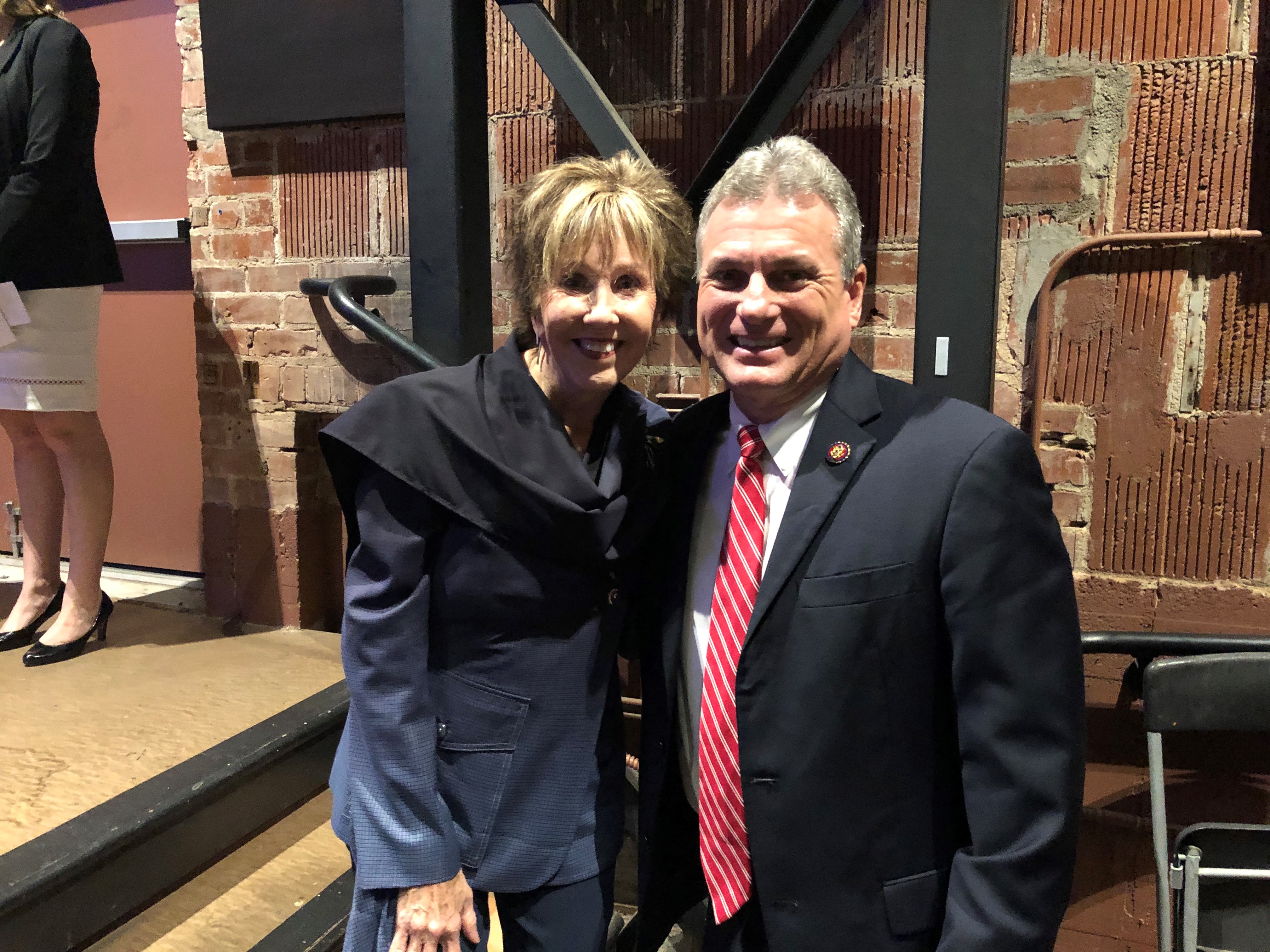 Rep. Carter and Mayor Sessions at the Tybee Island Inauguration Ceremony
Next, I head to downtown Savannah in Chatham County for a meeting with my good friend, State Representative Carl Gilliard, before heading to Tybee Island for their inauguration ceremony where we witness history in the making as the first woman, Shirley Sessions, is sworn in as mayor. Mayor Sessions has served on City Council in the past and will do an outstanding job in her new role. Also, sworn in for another term is my good friend City Councilman Barry Brown and sworn in for the first time are Council Members Jay Burke, III, and Nancy DeVetter.