Last year, Democrats across the country embraced the radical movement to defund the police in response to calls for social justice. Now violent crime surges in cities across the country and police near the breaking point amid mass resignations.

It should be no surprise. When you remove penalties for crime, allow rioters to take over cities and outright attack those we entrust to enforce our laws, you will pay a price. Look no further than Atlanta where homicides are up nearly 60 percent over last year.

This week President Biden attempted to deflect blame from these failed liberal policies by demonizing guns and gun owners. It's the same, tired liberal song sheet back again: attacking our second amendment rights at every turn.

If we want to address this spike in crime, we need to support our law enforcement, strengthen families, and enforce our laws. We also need to defend the right of law-abiding citizens to protect themselves and their families.

Liberal cities are reaping what they've sowed over the last year. We cannot let them use that as an excuse to attack our Second Amendment rights.

This week's edition of Buddy's Briefing comes from the East Lawn of the Capitol. Learn more about the Capitol, the Corrupt Politicians Act and the Biden Crime Crisis:

From Our Nation's capitol CXVIII
Tuesday, June 22, 2021: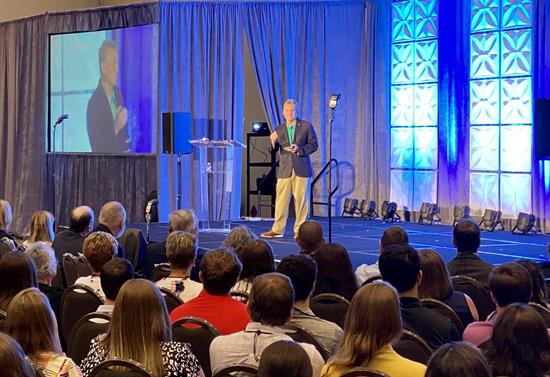 Buddy speaking at the GA Pharmacy Convention

This past Saturday, I attended the Georgia Pharmacy Association (GPhA) Annual Convention in Amelia Island, FL, where I was the keynote speaker during their general session and brought them up to date on pharmacy and health care issues in Washington. I have been a member of GPhA since I graduated from the University of Georgia's School of Pharmacy in 1980 and enjoyed seeing my long-time friends as well as the many young people who have joined our profession. After flying to Washington this morning, I have a meeting with TruTag Technologies to learn more about their pharmaceutical tracking capability that helps ensure the country of origin and authenticity of medications. This is a real problem in pharmaceutical and food safety and a solution will help address national security and health security issues. Afterwards, I head to the Rules Committee where I represent the Energy and Commerce (E&C) Committee and speak in opposition a bill that would repeal Trump-era regulations regarding methane. A link to my testimony can be found here. Afterwards, I head to our weekly Whip Team meeting where I speak against the methane legislation again. Next, I head to the House Chamber for our first vote series of the week and afterwards pay tribute to Hugh McNatt from Uvalda, who recently passed. A link to my tribute can be found here.

Wednesday, June 23, 2021: My morning begins with an E&C meeting where we discuss today's full committee mark up. Next, I head to our weekly GOP Conference meeting after which I head to a Budget Committee hearing where we hear from the Secretary of Housing and Urban Development (HUD) concerning the Fiscal Year (FY) 2022 budget. A link to my questions can be found here. After the hearing, I head to the House Chamber where I pay tribute to long-time Young Harris College faculty member O.V. Lewis, Pipe organ builder Fritz Noack, Wesley Monumental Methodist Church Youth Minister James Owen and U. S. Army Veteran Harry Strack. A link to my tributes can be found here, here, here and here.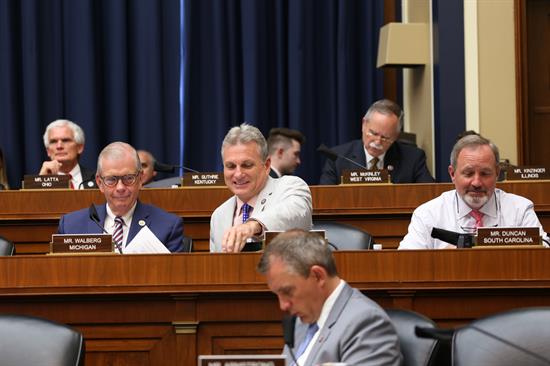 Buddy participates in Energy and Commerce Hearing

Next, I head to the E&C full committee markup that begins at 10:30 AM and lasts until 7PM. A link to an amendment I offer during the markup can be found here. During the markup we have several breaks, including for two different vote series. During the breaks I am able to record a podcast with the American Academy of Orthopedic Surgeons (AAOS) where we discuss legislation, I am sponsoring to increase access to telehealth for seniors. I also have time to briefly meet with a group of forest landowners to discuss legislation I've drafted to improve disaster assistance for foresters impact by wildfires and hurricanes. I am also honored to meet with a Georgia Gold Star Dad, Karl Porfirio, who presents me with a book he wrote for children to understand the honor of receiving the Purple Heart.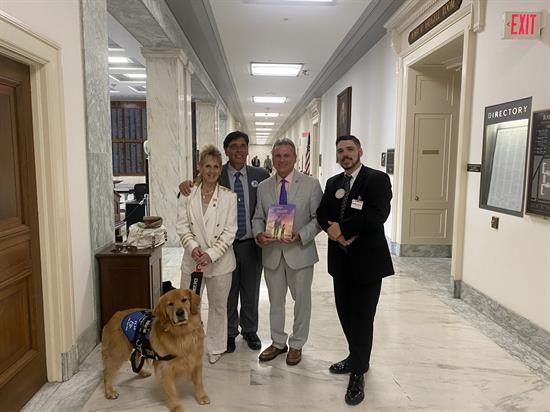 Gold Star Family Meeting


Thursday, June 24, 2021: After a Doctor's Caucus meeting with representatives from the Centers for Medicare and Medicaid Services (CMS) to discuss how they will interpret the surprise billing legislation that we passed last session, I meet with a representative from DaVita Dialysis to discuss health care issues. Next, I head to the House Chamber where I pay tribute to Army Environmental Award Winner Fort Stewart, Young Harris College President Drew Van Horn, and Freddie's Garage on Tybee which has been in business for 75 years. A link to my tributes can be found here, here, and here. Afterwards, I head to a Budget Committee hearing on the Department of Defense's FY 2022 budget where ask the Under Secretary of Defense questions regarding Critical Race Theory (CRT) being taught in the military. A link to my questions can be found here. Next, I head to an E&C Health Subcommittee hearing on legislation to advance equity and public health. A link to my questions can be found here.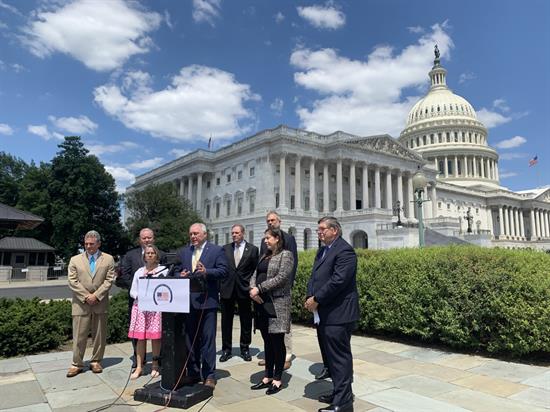 GOP Doctor's Caucus Press Conference

After a virtual call with students attending the Georgia Electric Membership Cooperatives (EMC) Washington youth tour, I head to a Doctor's Caucus Press conference with GOP Whip Steve Scalise (R-LA) and GOP Conference Chair Elise Stefanik (R-NY) where we discuss efforts to hold China accountable for the origin of COVID-19. Later, I return to the Capitol grounds to record this week's edition of Buddy's Briefing before heading to the House Recording Studio where I have an oral history interview with the House Historian to discuss the breech of the Capitol on January 6th. Next, I head to the House Chamber for our only vote series of the day and afterwards remain in the House Chamber where I pay tribute to my High School History teacher and former Pooler Councilman Wayne Seay, who passed last week. A link to my tribute can be found here. Later, I head back to the House Chamber where I take part in a special order on Getting America Back to Work. A link to my comments can be found here.

Friday, June 25, 2021: I take an early flight back to Pooler this morning as I am honored to give the eulogy at the funeral of Wayne Seay. Known affectionately as Pooler's resident historian, I have known Wayne Seay since 1974 and will miss him dearly. Later, I head to our Savannah District office where I have a live interview on One American News Network (OANN) to discuss CRT.