Two Big Wins for American Workers
There were two BIG wins for American workers this week.

First, President Trump secured a historic trade deal with China. For too long, China has been allowed to be a bad actor. Phase one of this trade deal will work to rebalance our trade partnership with China to benefit American business, farmers, manufacturers and other hardworking Americans.

Among other things, China has committed to purchasing an additional $200 billion in American goods over the next two years. China has also agreed to purchase between $40 and $50 billion in American agricultural goods each year for the next two years.

Also this week, the Senate just approved the United States-Mexico-Canada Agreement (USMCA) and it's headed to President Trump's desk. I was proud to vote for the USMCA in the House because it has been estimated that it will create more than $68 billion in new economic activity and 176,000 new jobs here in America.
This week on buddy's briefing
Speaker Pelosi and House Democrats finally voted to send their articles of impeachment against President Trump to the Senate this week.

Throughout their entire impeachment process in the House, my colleagues on the other side of the aisle demanded that it was urgent to impeach the President, and it must be done as soon as possible. However, after they voted to impeach, Speaker Pelosi let the articles sit on her desk for nearly a month. This has proven to the American people that there was never an urgent need to impeach the President and has allowed the public to see what we have been saying all along – this is a sham impeachment based on political games and emotions instead of fact.

We discuss this and more on this episode of Buddy's Briefing.



from our nation's capitol CCXLIX
Monday, January 13, 2020: On Saturday, I was honored to be in Woodbine in Camden County for the inaugural community day celebration on their beautiful waterfront park as the community celebrated the induction of their new Mayor, Kizziler "Kizzi" Knight. Along with State Representative Steven Sainz, former Mayor Steve Parrott, Sherriff Jim Proctor and a host of citizens, I had the honor of speaking at the ceremony and administering the oath of office to the newly elected Mayor.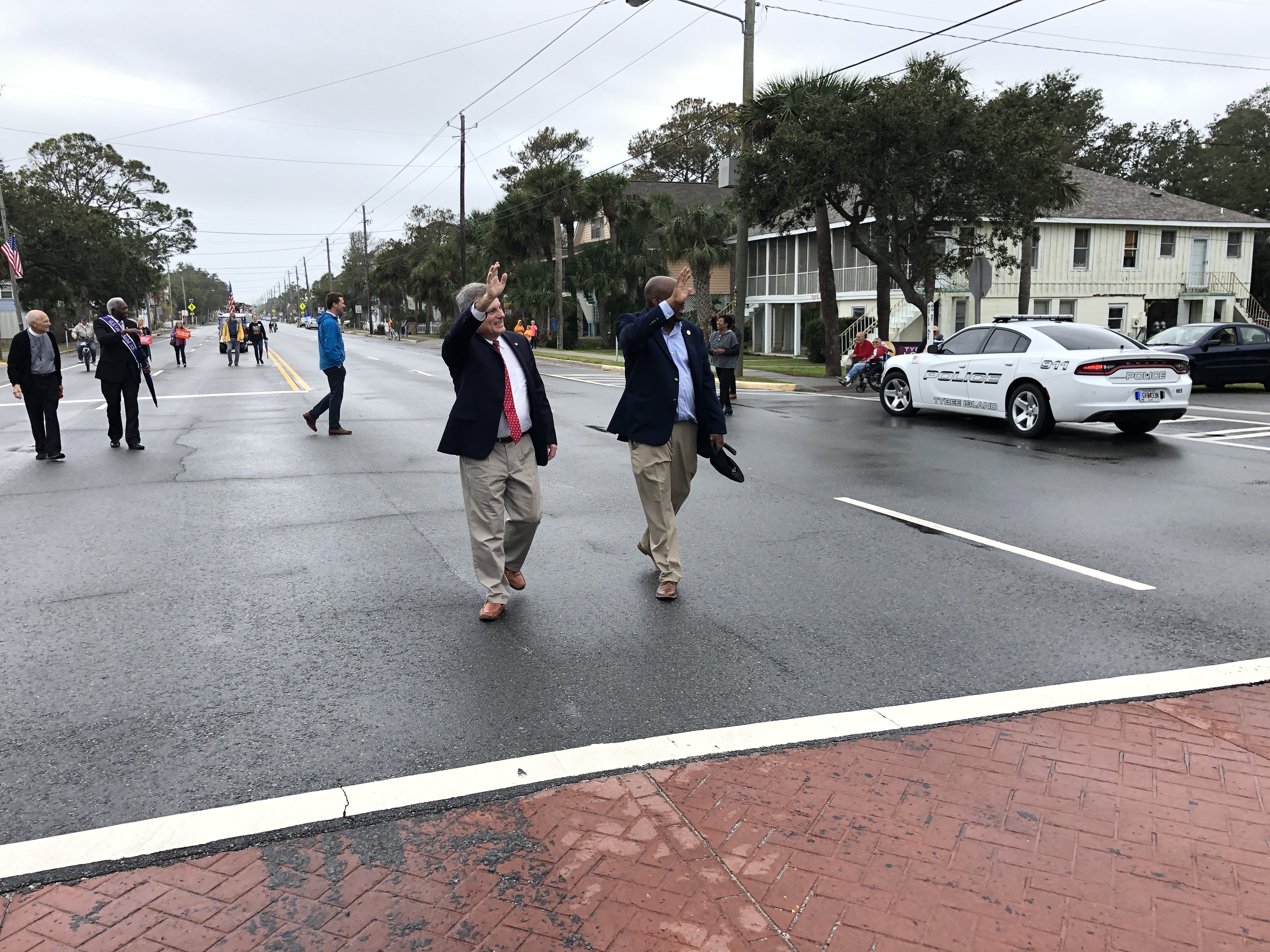 Rep. Carter at the Tybee Island Martin Luther King Jr Parade

Afterwards, I headed to the other end of the District as I marched in the Tybee Island Martin Luther King, Jr. Parade. I have participated in this great parade for six of the past seven years that it has been held. After the parade I participated in a great ceremony where we honored this year's Grand Marshal, Richard Shinhoster, and Humanitarian of the Year, Rev. James Maury. We also heard six great presentations from Chatham County Middle and High School speech contest winners. Before flying back to Washington this afternoon, I have our weekly conference call with district staff and, once back in Washington, I have our weekly briefing with the DC staff. Afterwards, I head to our weekly Whip Team meeting before heading to the House Chamber for our first vote series of the week. After votes, I remain in the House Chamber and pay tribute to Tom Wright, who passed recently. A link to my tribute can be found here.

Tuesday, January 14, 2020: My first meeting this morning is with the Border Security Caucus as we hear from Border Patrol Chief, Carla Provost and Acting Border Patrol Deputy Chief, Rodney Scott, who bring us up to date on what is happening at the border. Afterwards, I head to our weekly GOP Conference as we welcome the newest member of our Conference, Rep. Jeff Van Drew (R-NJ). Rep. Van Drew recently switched to our Conference and we are glad to have him join us. Next, I head to the House Chamber where I memorialize State Rep. Jay Powell who recently passed, pay tribute to Nathan Newberg, who was recently recognized as the USO Coastguardsman of the Year, and recognize January 12th as National Pharmacists Day. A link to my speeches can be found here, here and here. Afterwards, I head to an Energy and Commerce (E&C) Environment Subcommittee hearing on hydrofluorocarbons. A link to my questions can be found here. Next, I head to the House Chamber for our first and only vote series of the day.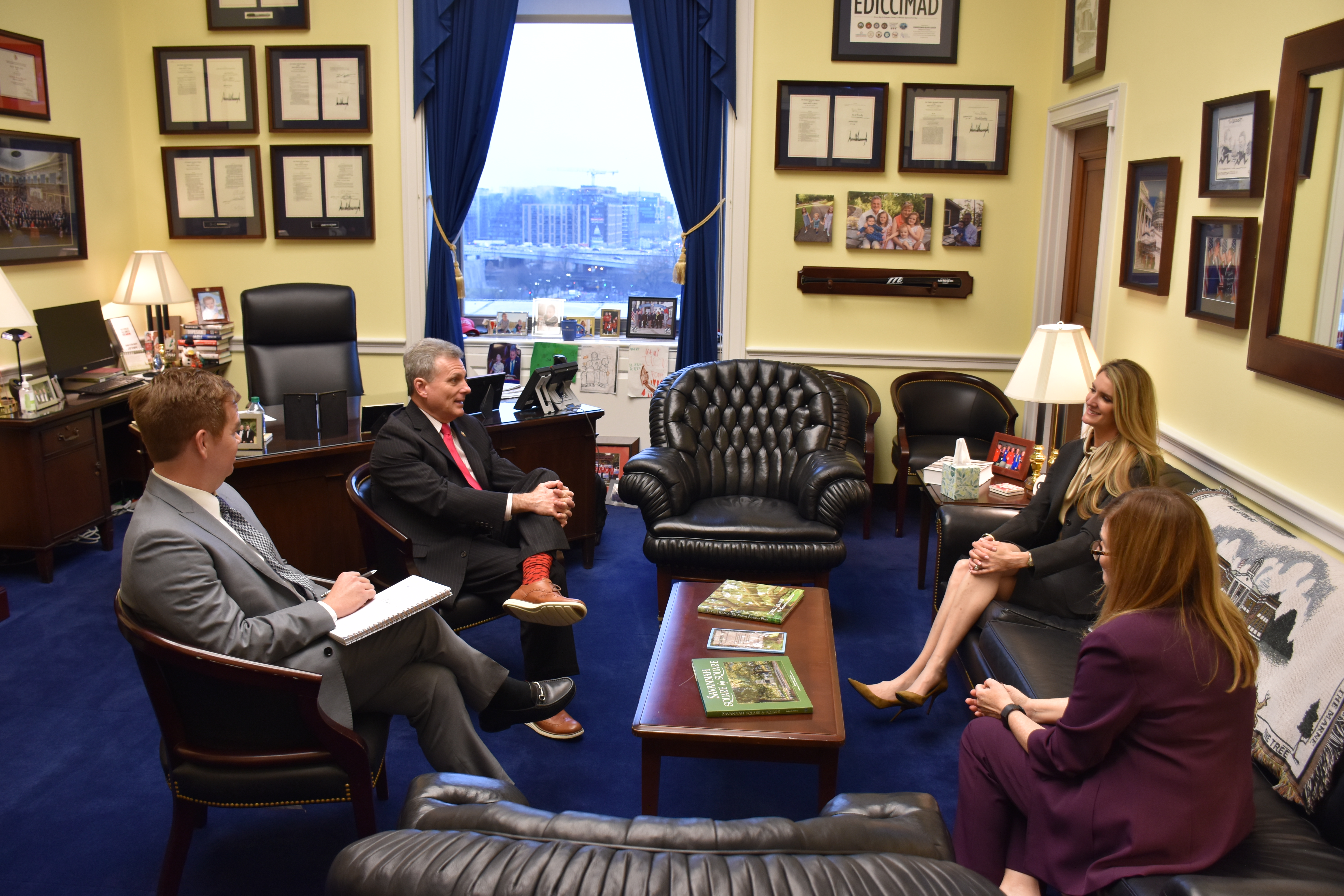 Rep. Carter meeting with Senator Kelly Loeffler

After spending some time in my office on paper work, my Chief of Staff and I welcome to our office Senator Kelly Loeffler and her Chief of Staff Joan Carr for a courtesy meeting. I am looking forward to working closely with Sen. Loeffler and her staff as we have in the past with our other Senators. Next, I meet with the Chairperson of the Select Committee on Climate Change that I serve on, Rep. Kathy Castor (D-FL). The report of the Select Committee is due in March and Rep. Castor is seeking input from members on what we want to include in our report. After a meeting with my good friend Ken Quinn with International Auto Logistics located in Brunswick in Glynn County, I head to a reception with the Ambassador of Switzerland.

Wednesday, January 15, 2020: I'm at the most beautiful building in America this morning as I'm filming this week's edition of Buddy's Briefing at the Library of Congress (LOC). Afterwards, I head to an E&C Health Subcommittee hearing on cannabis policies for the new decade, a very important topic in which I have a keen interest. A link to my questions can be found here. After attending a meeting of the conservative Republican Study Committee (RSC), I head to the House Chamber for our first vote series of the day and afterwards I meet with my good friends Bill Eley and Mike James to discuss pharmacy issues.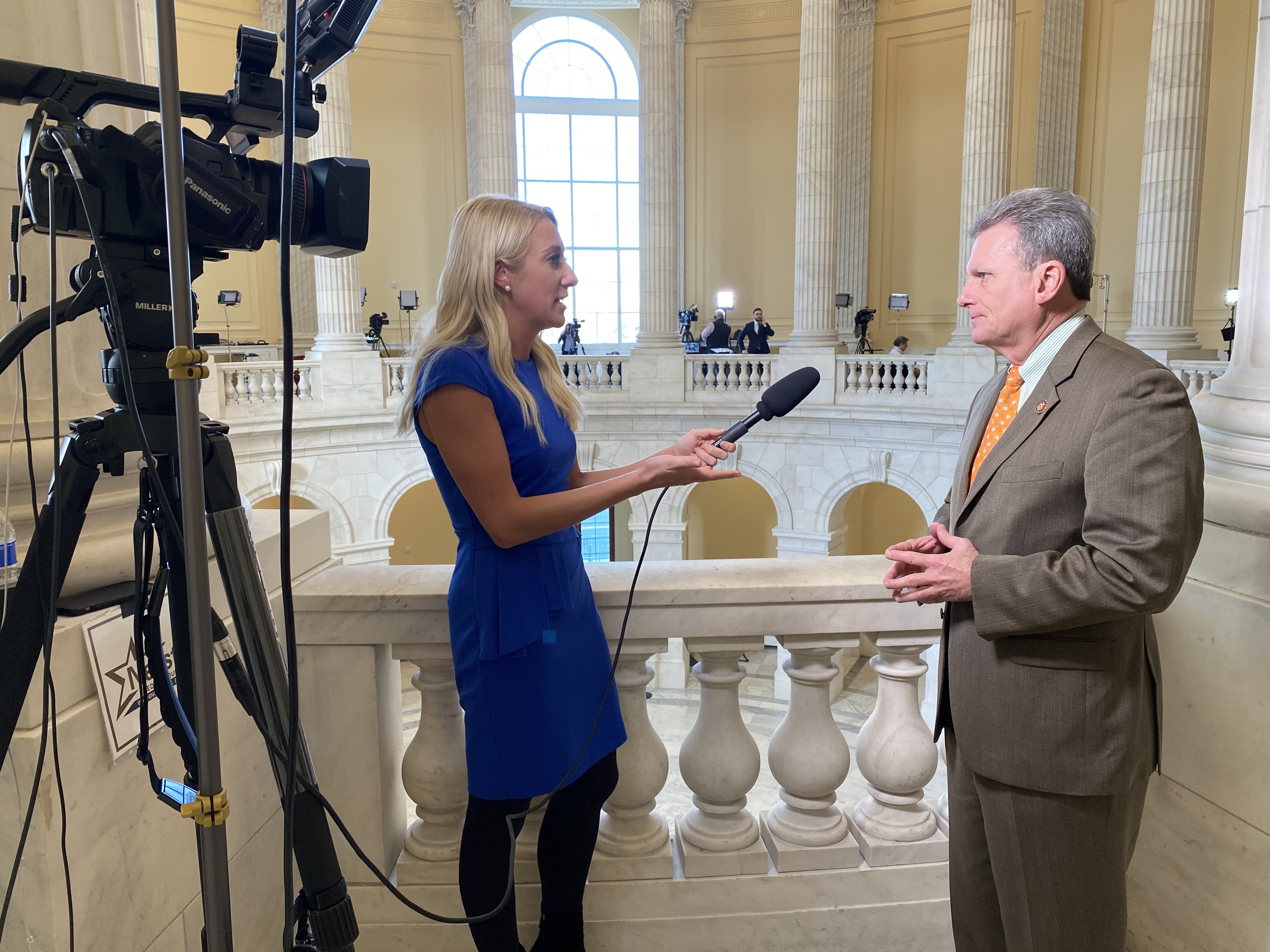 Rep. Carter speaks with WSAV about impeachment

Next, I head to the Cannon Rotunda where I have an on-camera interview with WSAV TV in Savannah to discuss impeachment. Afterwards, I head to Statuary Hall in the Capitol where I attend the Congressional Gold Medal Ceremony in honor of former New Orleans Saints football player Stephen Gleason whose career was cut short by ALS and whose charity, Team Gleason, has provided almost $10 million in services to over 15,000 people living with the disease. Afterwards, I head back to the House Chamber for our second vote series of the day.

Thursday, January 16, 2020: I'm in the House Visitors Center (HVC) this morning as we have a GOP policy conference to discuss climate change. I am very pleased that our conference is taking an aggressive, pro-active approach to climate change that will encourage innovation, conservation and preparation by the private sector while continuing to grow our economy. Over the past decade the United States has decreased the amount of carbon emission more than the next 12 countries combined. I am convinced the greatest innovators and scientists in the world are here in the United States and I look forward to the jobs and technologies that will be created as a result of this. Afterwards, I head to the House Chamber for our last vote series of the week and remain in the Chamber afterwards to deliver a memorial to Port Wentworth Mayor Pro-Tem Debbie Johnson who passed unexpectedly earlier this week. A link to my memorial can be found here.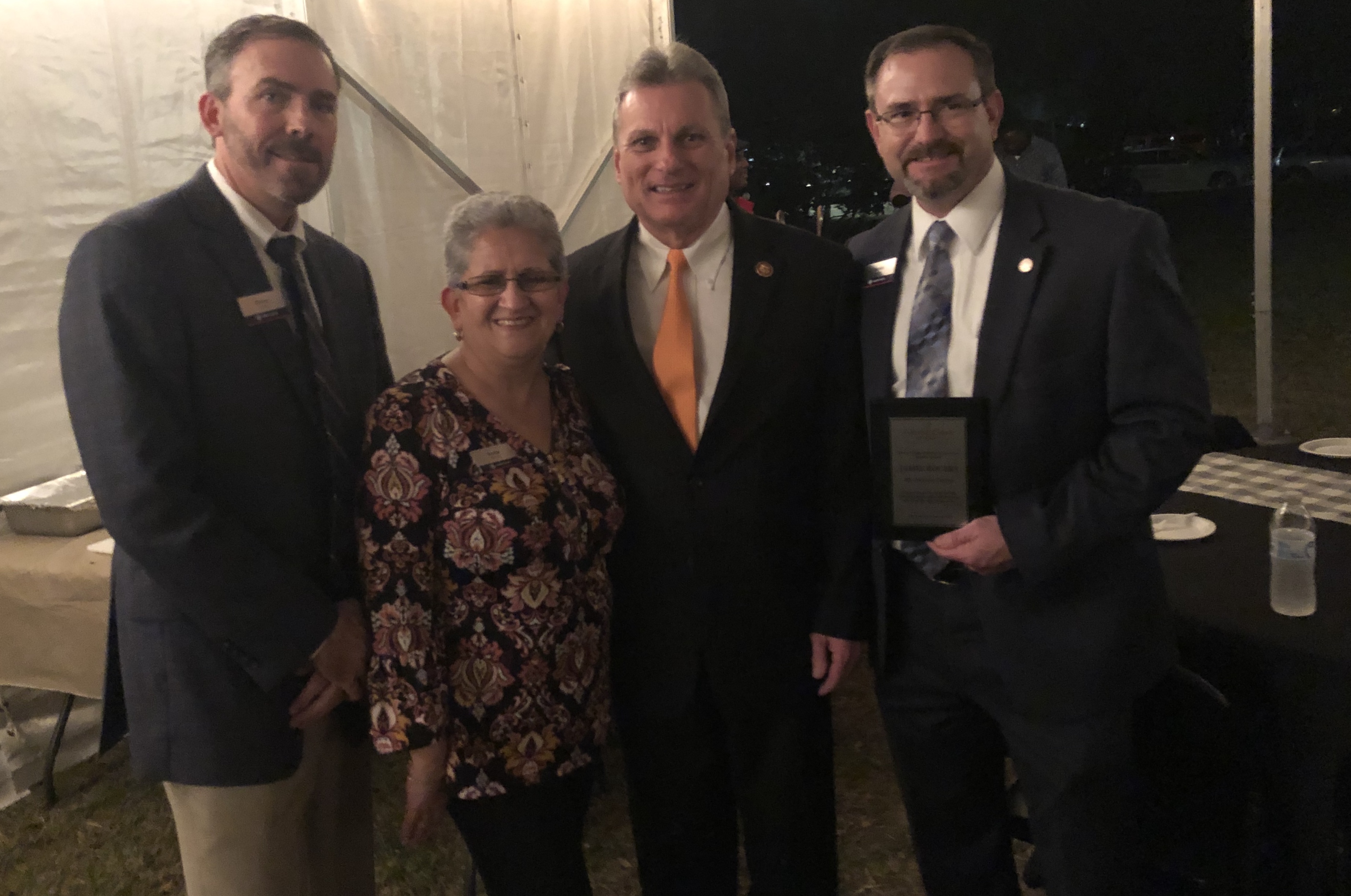 Rep. Carter at Taste of Liberty

Before heading to the airport for my return trip home, I attend an E&C bipartisan briefing on the implementation of 21st Century Cures. As soon as I land in Savannah, I head to Hinesville in Liberty County where I attend the annual Taste of Liberty Banquet where they honor the Business Leader of the Year, Civic Leader of the Year and Business of the Year.

Friday, January 17, 2020: After our weekly Band of Brothers Bible study, I head to my Savannah office where I meet with an impressive group of business and health care professionals interested in post-partum care and the work I have done in Congress on maternal mortality. Next, I meet with a group of beauty salon owners from the district to discuss how tips are taxed in their industry before heading to Hutchinson Island in Savannah for the Savannah Chamber of Congress 2020 Economic Outlook Luncheon where we hear optimistic predictions for the upcoming year.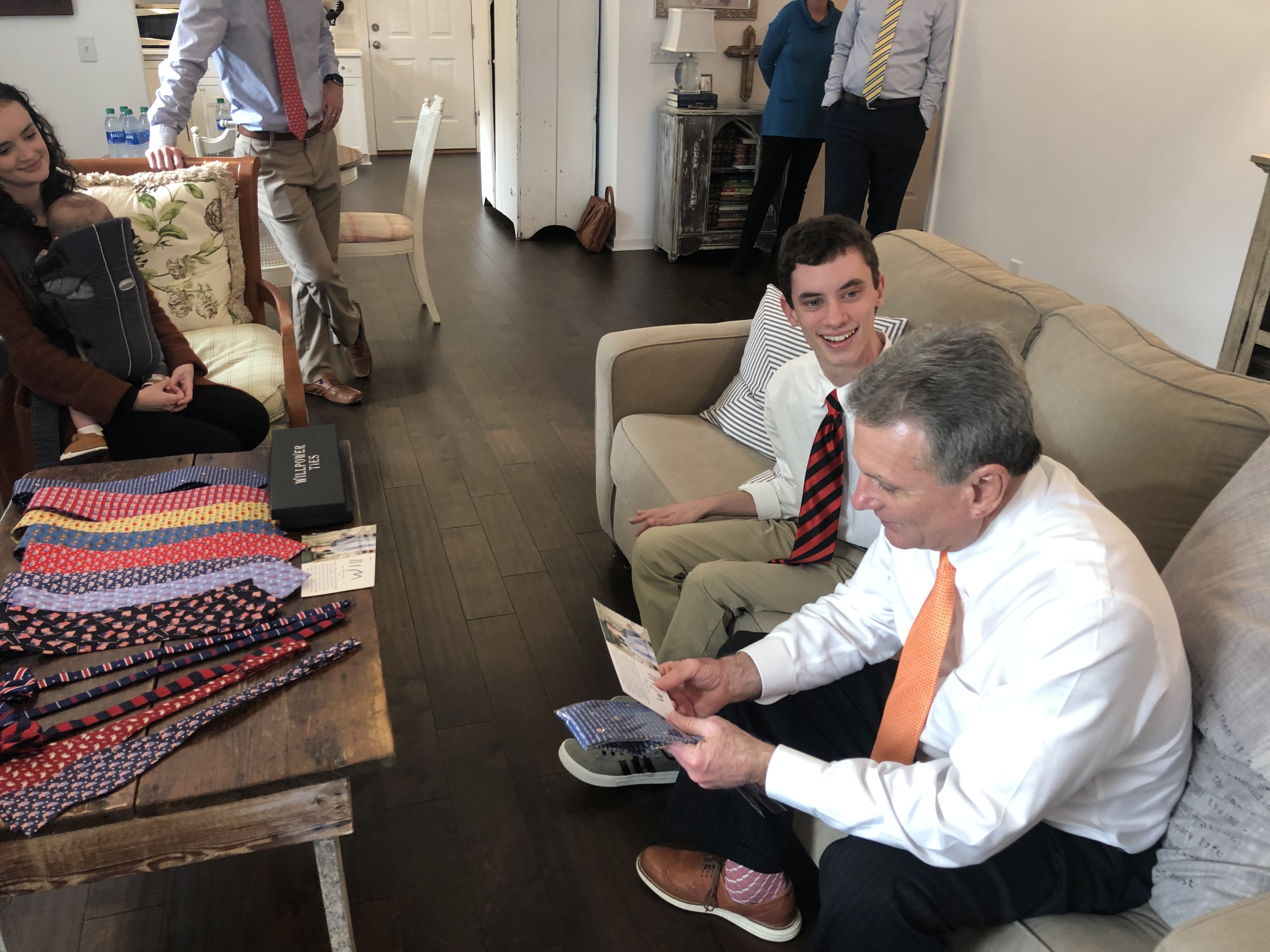 Rep. Carter with Will Howell of WillPower Ties

Afterwards, I head to Darien in McIntosh County where I make a new friend, Will Howell with WillPower Ties. Will is a delightful 20-year-old man with cerebral palsy who has launched his own business, a tie business that includes neckties and bow ties as well as a line of bow ties for dogs. With strong family support, Will's business has taken off, proving that no disability can stop someone with willpower from succeeding. Next, I head to American Legion Post 9 in Brunswick where I have the honor of speaking at a veterans town hall meeting hosted by Dublin VA Administrator David Whitmer, who shares the good news that a new VA health facility is planned for Brunswick.
VOTES IN THE HOUSE THIS WEEK
Click here for this week's vote sheet in the House.