National Prescription Drug Take Back Day
Did you know that more than 90 Americans die every day from an opioid overdose? This is an epidemic that is crippling our nation and no community is safe.

Last week, I testified before the Energy and Commerce Committee about important moves we need to make to address this crisis. Next Wednesday, I will join my colleagues in the Energy and Commerce Committee for a hearing to discuss federal efforts to combat the opioid epidemic. I will keep you posted on our federal actions, but there are ways you can help.

The 14th Annual National Prescription Drug Take Back Day takes place this year on Saturday, October 28 from 10:00 a.m. – 2:00 p.m.


This event provides safe, convenient, and responsible means to dispose of prescription drugs.

Collection site locations in the First District of Georgia include:

CVS / Pooler Police Department
500 Pooler Parkway, Pooler, Georgia 31322

Walmart / Wayne County Sheriff's Office
1100 North 1st Street, Jesup, Georgia 31545

Tybee Island Police Department
78 Van Horn, Tybee Island, Georgia 31328

South Eastern Bank / Charlton County Sheriff's Office
4233 2nd Street, Folkston, Georgia 31537

I cannot stress enough the importance of disposing of or securing medications away from those that may use and abuse them. For more information and to learn more about our fight to end the opioid epidemic, visit buddycarter.house.gov/opioids.

From our Nation's Capitol CXXXVI
Monday, October 16, 2017: After having made the 5 hour drive yesterday afternoon, I wake up this morning in Orlando, Florida, where I am the keynote speaker at the National Community Pharmacist Association's (NCPA) annual convention.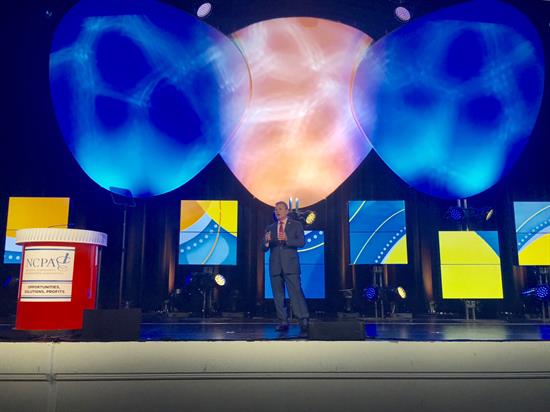 Rep. Carter addressing the NCPA Annual Convention

During my keynote address during the general session I bring the attendees up to date on the goings on in Washington, particularly as it relates to pharmacy issues. Afterwards, I meet with NCPA CEO Doug Hoey and Senior Director of Political Affairs and Advocacy Karry LaViolette to discuss issues of importance to their members. Afterwards, I attend a number of meetings with different groups of the association, including the compounding and clinical practice committees, to discuss issues specific to their practices. After a great visit, I hit the road for the five hour trip back home.

Tuesday, October 17, 2017: This morning I'm in Jesup in Wayne County where I host a timber tax roundtable where I meet with stakeholders to hear their concerns regarding tax reform. With representatives from large landowners such as Weyerhaeuser, Rayonier and Timberland Investment Resources, as well as businesses involved in timber harvesting, I am able to get very diverse opinions. Georgia is the number one forestry state in the nation and the industry is extremely important to our economy and especially to our environment, as the participants remind me how important a role the industry plays in providing clean water and clear air. Afterwards, I head to the Yellawood Jesup location for a tour of their facility. Yellawood is a lumber company that makes wood products for homes, like side panels, decks and columns and employs about 1000 people in 14 states across the U.S., South America and the Caribbean.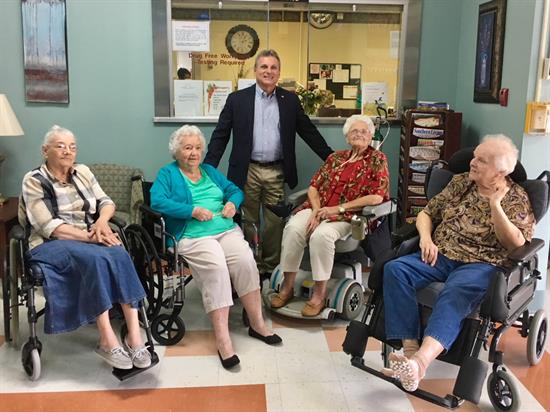 Rep. Carter visiting with residents at Harborview Satilla Nursing Home

Like all companies these days, they are very interested in the proposed tax reform package coming out of Washington. Next, I head to Blackshear in Pierce County for a tour of the Harborview Satilla Nursing Home where I meet with management as well as residents. Having spent a great part of my professional career as a nursing home pharmacy consultant, I have spent many long days in nursing homes and have a great deal of respect for the job that these professionals perform. One of the great experiences of visiting a nursing home is meeting the residents and today I enjoyed meeting some very nice young residents who varied in age from 85 to 95. Afterwards, I head to the Coastal Pines Technical College Waycross campus in Ware County for another timber tax roundtable where this time I meet primarily with private landowners. Interestingly, the concerns of the private landowners and corporate landowners are almost entirely the same. Timber farming is unique in that it is a long term investment and commitment where landowners may only see one or two harvests of their land in a typical lifetime. My final stop is a trip to Folkston in Charlton County to visit with Joe Hopkins who takes me on a tour of some of his vast timberland and shows me the impact that the West Mims fire had on some of his acreage earlier this year. Some of Joe's land borders the Okefenokee Swamp where the fire started and unfortunately spread to have a devastating impact on some of his land.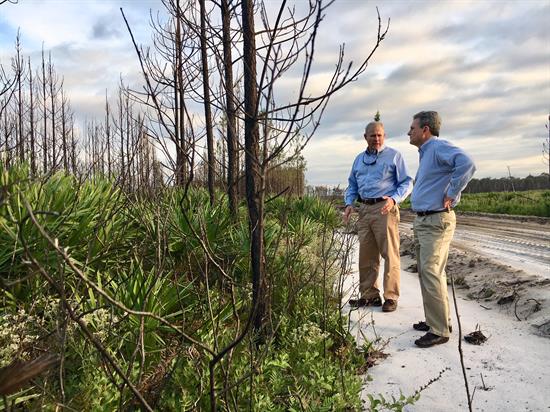 Rep. Carter touring timberland in Charlton County

Wednesday, October 18, 2017: My first visit today is in West Savannah for a tour of the Sustainable Fellwood affordable housing complex with my good friend, State Rep. Carl Gilliard (D-Savannah). This impressive LEED certified project is divided up into three phases with phase III being specifically for senior citizens. Afterwards, I head to Darien in McIntosh County to meet with Industrial Development Authority Chairman Wally Orrel and city and county leaders for a presentation on their waterfront development plans. This impressive project is another example of how this forward thinking county is making plans for growth in the future. Next, I head to Brunswick in Glynn County where I speak to the Georgia Society of CPA's and bring them up to date on tax reform. Later, I have a meeting in my Brunswick office with a constituent followed by a meeting with members of the St. Simons Land Trust to learn more of their future plans. My last stop of the day is in St. Marys in Camden County as I tour the Camden House, a nonprofit that shelters victims of domestic violence.

Thursday, October 19, 2017: I'm at my Savannah office this morning and my first meeting is a TV interview with WSAV's JoAnn Merrigan to discuss the National Flood Insurance Program and other issues. Next, I meet with Jenny Rutherford who is running for Tybee City Council followed by a phone call with a constituent to discuss trucking issues.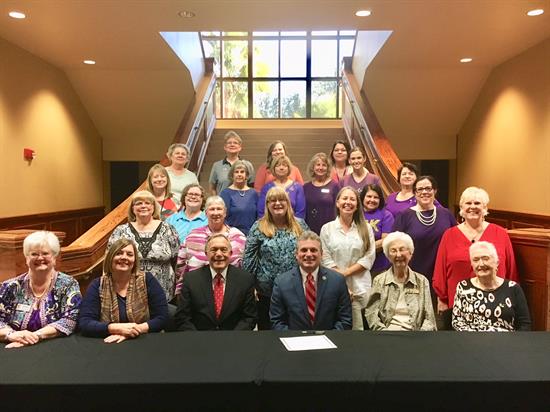 Rep. Carter with members of Alpha Delta Kappa

I also have three other meetings including meetings with representatives from the Savannah Coalition on Aging as well as a couple of constituents regarding immigration. Later, I head to downtown Savannah to meet with a couple of long term care pharmacists before heading to the Savannah International Trade and Convention Center for an update on their exciting expansion plans. Next, I head to the Georgia Association of Realtors national meeting to talk tax reform with them before making my final stop of the day in Hinesville in Liberty County where I join women of the Alpha Delta Kappa honorary organization in a proclamation signing recognizing October 2017 as Alpha Delta Kappa Month.

Friday, October 20, 2017: I am honored this morning to address members of the Georgia Airports Association at their annual conference in downtown Savannah. Afterwards, I head to my Savannah Office where I meet with about 20 members of Americans for Prosperity to hear their thoughts on tax reform. Next, I head to the New Day Counseling Center in Savannah to learn about their opioid rehabilitation program.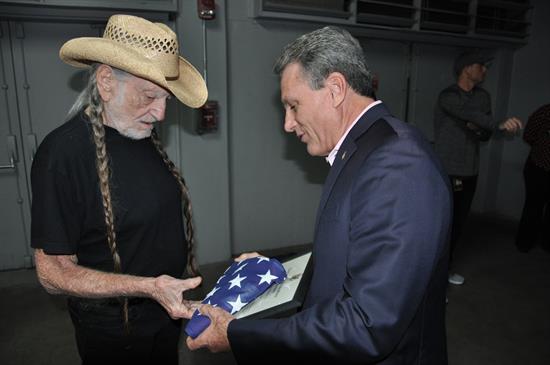 Rep. Carter presents a flag flown over the U.S. Capitol to Willie Nelson

Afterwards, I visit Recovery Place in Savannah to learn more about their program in opioid addiction before heading to the Great Ogeechee Seafood Festival in Richmond Hill where I am a tasting judge and we rank each dish entered based on taste, presentation and creativity. Needless to say, this is an extremely hard job with such delicious food to choose from. My final stop of a very busy week is at the Savannah Civic Center where I have the honor of presenting country and music legend Willie Nelson with a flag flown over the Capitol in his honor and welcoming him to the First District.