Press Releases
Carter, Cornyn, Tuberville, Merkley, and Khanna Introduce Bipartisan Legislation to End Children's Abuse in Residential Treatment Centers
Washington, April 28, 2023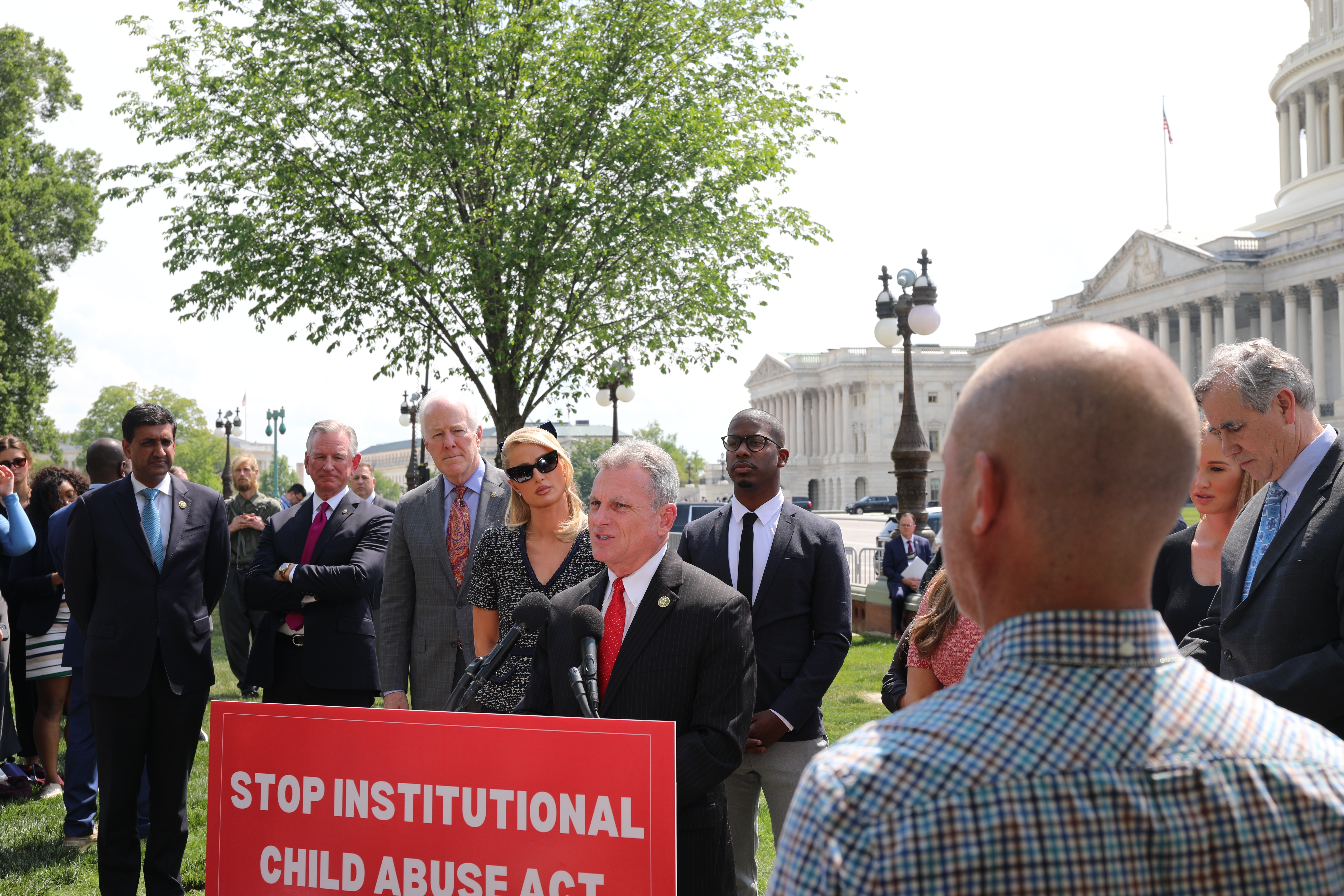 Washington, D.C. – Rep. Earl L. "Buddy" Carter (R-GA) teamed up with U.S. Senator John Cornyn (R-TX), Senator Tommy Tuberville (R-AL), Senator Jeff Merkley (D-OR) and Rep. Ro Khanna (D-CA) to introduce the bipartisan Stop Institutional Child Abuse Act. This bipartisan, bicameral bill would provide greater oversight and data transparency for institutional youth treatment programs, begin implementing urgent recommendations to develop robust information sharing systems among states, and promote dissemination of best practices for identifying and preventing institutional child abuse.

"Children in institutional care deserve to be safe, healthy, and properly cared for, and their parents deserve transparency about their child's living conditions," said Rep. Carter. "What's happening in these facilities, too often, constitutes child abuse, and the federal government must come together to protect our nation's youth."

"Institutional care, without oversight, all too often becomes institutional abuse," said Sen. Jeff Merkley. "Reforming our residential care system would improve the lives of thousands of children across our country, and it merits our urgent attention."

"Residential treatment programs play a pivotal role in addressing our country's mental health crisis and helping young people navigate behavioral and emotional challenges," said Sen. John Cornyn. "Every residential treatment facility should be a safe place for children to heal and grow, and this legislation would prevent institutional abuse by strengthening accountability and transparency from these facilities."

"Kids and young adults will decide the future of this country," said Sen. Tommy Tuberville. "I dedicated my life to mentoring young people because they are the most precious commodity we have. If we get everything else right, but neglect our young people, our country has no future. I've seen some of these residential care facilities with my own eyes and I know they need reform. There's an old saying that sunlight is the best disinfectant. We need some more sunlight on these facilities so we can put a stop to the waste, fraud, and abuse in the system. I'm proud to support this bill and stand with our kids."

"It takes a lot of courage for survivors like Paris Hilton, Caroline Cole and Kayla Muzquiz to come forward and share their stories. We owe it to them to make sure that Congress listens and passes this bill swiftly and decisively." said Rep. Ro Khanna. "Right now, over 100,000 children are at risk of abuse, neglect, and even death due to a complete lack of transparency in the so-called 'troubled-teen industry.' We cannot allow this to continue. The Stop Institutional Child Abuse Act will shed light on the abuse and neglect occurring in congregate care programs around the country, and will start reforming a system that has gone unchecked for far too long."

In recent years, residential care facilities have come under fierce scrutiny of the abuses that take place behind closed doors. Working closely with advocacy groups and lawmakers in D.C., Paris Hilton, a residential care facility survivor and fierce advocate, has been a leading force shining a light and increasing awareness of the prevalence of physical, emotional, and sexual abuse of youth in these programs, leading to hospitalizations, prolonged trauma, and even deaths.

"For decades, children have experienced widespread abuse, neglect, and preventable death in youth residential programs across the country. Meanwhile, this deceptive multi-billion dollar industry has operated without any real accountability or transparency. At long last, this is finally beginning to change with the Stop Institutional Child Abuse Act. As a survivor, I am proud to stand with bipartisan congressional leaders who are working to protect our nation's most vulnerable youth," said Paris Hilton, a residential care facility survivor.

Investigations have uncovered abuse in these facilities across the nation, including broken bones, fight clubs, sexual abuse, forced isolation, and failure to provide adequate medical care or evidence-based treatment. Far too often, youth experience abuse resulting in additional trauma and even death at the hands of staff employed by these programs. Some youth enter through the child welfare system and require treatment for emotional or behavioral challenges, and others enter this network directly from parents seeking treatment for their children.

The industry's lack of transparency and quality of care is alarming, and Congress must step in and pass comprehensive legislation to crack down on the physical and emotional abuse that many children in these facilities experience. The Stop Institutional Child Abuse Act is a critical step forward that would provide increased oversight and data transparency for institutional youth programs by implementing urgent recommendations from the Government Accountability Office (GAO) and Substance Abuse and Mental Health Services Administration (SAMHSA), including developing robust information sharing systems among states that also promote the dissemination of best practices for identifying and preventing institutional child abuse.

The Stop Institutional Child Abuse Act:
Establishes the Federal Work Group on Youth Residential Programs, comprised of representatives from the Administration for Children and Families, the Administration for Community Living, the Substance Abuse and Mental Health Services Administration, and other relevant federal agencies.
Directs the National Academies of Sciences, Engineering, and Medicine to conduct a study on the use of restraints, seclusion, and other restrictive interventions in youth residential programs
The
Stop Institutional Child Abuse Act
is cosponsored by Senators Ben Ray Luján (D-NM), Chris Murphy (D-CT), and Susan Collins (R-ME).
This legislation is supported by leading experts, advocates, and organizations representing survivors of institutional abuse in youth residential programs.


"It is long past time we have more transparency about what happens in youth residential programs. Youth, including disabled youth, are continuously subjected to dangerous seclusion, restraints, and other unsafe practices in these facilities. The Stop Institutional Child Abuse Act takes needed steps to improve transparency, increase professional development and training of staff, and ultimately increase the safety of youth. I applaud Senators Merkley and Cornyn for their work on this bill," said Kimberly Knackstedt, Ph.D., Director of the Disability Economic Justice Team and Senior Fellow at the Century Foundation


"Rights4Girls applauds the introduction of the bipartisan Stop Institutional Child Abuse Act -- legislation that seeks to end the abuse of children inside youth residential programs and promotes greater transparency over current practices that have too often led to violence, trauma, and even death," said Yasmin Vafa, Executive Director of Rights4Girls.


"Inside facilities that are supposed to provide treatment and rehabilitation to our country's children, many of our nieces, nephews, grandchildren, and children are having their lives, innocence, and well-being destroyed by institutional child abuse. Once passed, SICAA will help shed the light of transparency and accountability on these acts of violence against children and ensure that the proper government agencies are collaborating to prevent, track, and respond to institutional child abuse," said Aubrey Edwards-Luce, Vice President of Child Welfare and Youth Justice at First Focus Campaign for Children.

"Transparency within our institutions is a critical step in both protecting our children and making sure these systems accomplish their intended purposes. No family or community should have to wonder if their children are safe within the walls of a government institution, yet we know some of the worse abuses of power have occurred in these settings. Taking every possible step to eliminate that possibility is the only conscionable way forward," said TaKasha Smith, Executive Director of the Juvenile Justice Coalition.

"This legislation is long overdue," said Ross W. Greene, Ph.D., Founding Director of Lives in the Balance.

"Nobody and no one deserves to be abused, misused or neglected.... regardless of their circumstances .... especially children," said Jayette Lansbury, Co-President of National Alliance on Mental Illness (NAMI) Huntington.

"As a nation, we can no longer rely on residential facilities and other programs to provide accountability for their programs which are actually perpetuating harm and trauma to our most vulnerable children. We must ensure that our "forgotten children" — Black Indigenous People of color (BIPOC) and youth who struggle mental health disabilities who are primarily from marginalized communities, are not further victimized and traumatized by those who are entrusted with their emotional and behavioral health. The creation of a federal work group, that includes those with the lived experience who are involved in all levels of decision-making, will help to ensure accountability," said Kathy Wright, Executive Director of the New Jersey Parents Caucus.

"The Freedom from Religion Foundation expresses appreciation to Paris Hilton for courageously sharing her story and advocating for the protection of vulnerable children, as well as Congressmen Ro Khanna (D-CA) and Buddy Carter (R-GA), and Senators Jeff Merkley (D-OR) and John Cornyn (R-TX), for joining Paris in their bipartisan efforts on the Stop Institutional Child Abuse Act. This bill is a crucial step towards preventing child abuse in youth residential programs and improving data collection and reporting to ensure the safety and well-being of children in institutional care settings," said Laurie Gaylor, Co-President and Co-Founder of the Freedom From Religion Foundation.

"Unchecked power will always corrupt those in power, and we need this oversight and protection for our most vulnerable children or they will continue to be harmed. As a clinical psychologist who has worked in residential and locked facilities, I can attest to the upmost need for these protections," said Dr. Toby Watson, PsyD, Associated Psychological Health Services.

"Neurodivergents have a spectrum of support needs, but one thing we share universally is dehumanization and abuse. All of us at NDLC are survivors of restraint, seclusion, and institutional abuse. It's time to humanize those who struggle rather than abusing and caging us. We are worthy of our own humanity," said Jennifer Litton Tidd, Co-founder of Neurodivergent Liberation Coalition.


"As an attorney who has represented numerous victims of physical and sexual abuse in residential programs, I've witnessed the devastating impact of mistreatment on our most vulnerable children. It is clear that the current system is failing, and there is an urgent need for change. The Stop Institutional Child Abuse Act is a vital step towards ensuring our children's safety and well-being. Through transparency, oversight, and prioritizing community-based care, SICAA aims to heal the wounds of institutional abuse and build a better future for our nation's most vulnerable children," said Tommy James, Lawyer.

I have witnessed first hand the traumatic and long-lasting damage of institutional child abuse. Practices such as restraint and Seclusion need to be addressed in order for us to have a happy and healthy future for all of society," said David Gray-Hammond, Founder of DGH Neurodivergent Consultancy.

"Without legislative protections, our most vulnerable children are being warehoused, commodified, dehumanized, and aggressively stripped of their autonomy and basic human rights. Often, Black, Brown, and Indigenous children and disabled children are most vulnerable to being traumatized by for-profit networks that continue to benefit financially from the destabilization of children through their adult lives by being pipelined into mental health facilities and prisons. Generations of survivors have warned against the lifelong impact of the abuses they suffered in congregate care institutions. We have access to humane, compassionate, and life-affirming approaches to supporting and accommodating the children whose needs are not served by compliance-driven behavioral approaches. It is a crime against humanity to neglect to impose legislation that would safeguard vulnerable children from being exposed to soulless, abusive interventions," said Terra Vance, CEO of NeuroClastic.

"All children have the right to basic protections of their human rights. No child should be submitted to psychological, emotional, physical or sexual abuse because of their need for substance abuse treatment or because of a mental or psychological disability. Over the last several decades, many residential treatment facilities have been investigated for severe mistreatment of patients in their care. Perpetrators of this kind of abuse have created an entire system of false credentials by which they deliberately and maliciously deceive and defraud parents and even governmental regulatory and funding agencies. We need state and federal regulatory legislation to prevent these horrible human rights abuses against these vulnerable children and young adults," said Dr. Janet Parker, Executive Director of the Medical Whistleblower Advocacy Network.

"We must protect our future generations from abuses we allow to damage them, as a survivor it is our duty to protect the next generation by any means necessary," said Mr.Five Mualimm-ak, Executive Director of Incarcerated Nation Network.

"AbleChild strongly encourages lawmakers to start to hold these behavioral health public/private companies accountable. We are encouraged by this bill," said Sheila Matthews-Gallo, Co-Founder of AbleChild.

"How many youth need to die for people to realize this is a systematic problem, not an individual one? When will the wellbeing of youth take priority over their exploitation through profit? Who will be brave enough to use their voice, vote, and privilege to advocate for those without the choice? We stand in solidarity with survivors & allies by supporting the passing of SICCA," said Survivor Nonprofit Organization, We Warned Them.

Bill text can be found here.