Press Releases
Carter donates blood to mark 9/11 Day of Service and Remembrance
Washington, September 13, 2023
SAVANNAH – Rep. Earl L. "Buddy" Carter (R-GA) marked 9/11 Day of Service and Remembrance by donating blood at Savannah Blood Connection, drawing attention to the increased need for donors following a year of unprecedented weather emergencies, including Hurricane Idalia and the Maui Wildfires.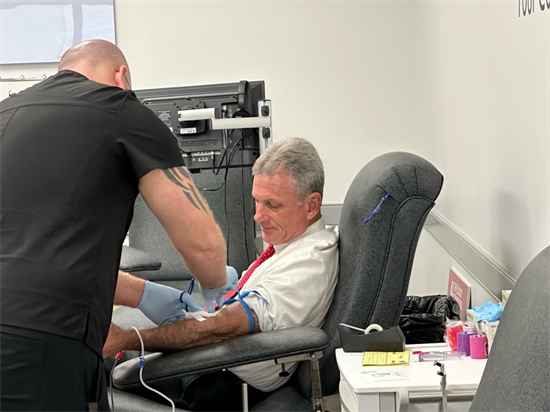 Carter donates blood at Savannah Blood Connection
The 9/11 Day of Service and Remembrance is a nationwide campaign by AmeriCorps and the 9/11 Day co-founders to "honor and commemorate the sacrifices made on 9/11" through acts of community service, according to its website. A pharmacist by trade, Rep. Carter participated in this important initiative by raising awareness for local blood donation sites, which are experiencing a supply shortage due to widespread weather-related appointment cancellations.
"In times of need, giving blood is a selfless act that allows each of us to do our part for our community. I can think of no better way to mark the solemn anniversary of 9/11 than by raising awareness for the lifesaving act of donating blood," said Rep. Carter.

According to Savannah Blood Connection, there is a critical need for all blood types – especially O-negative donations. Additionally, The American Red Cross reported that more than 700 units of blood and platelets went uncollected across southeastern U.S.

###